Controversy in Italy
Saturday, December 05th , 2009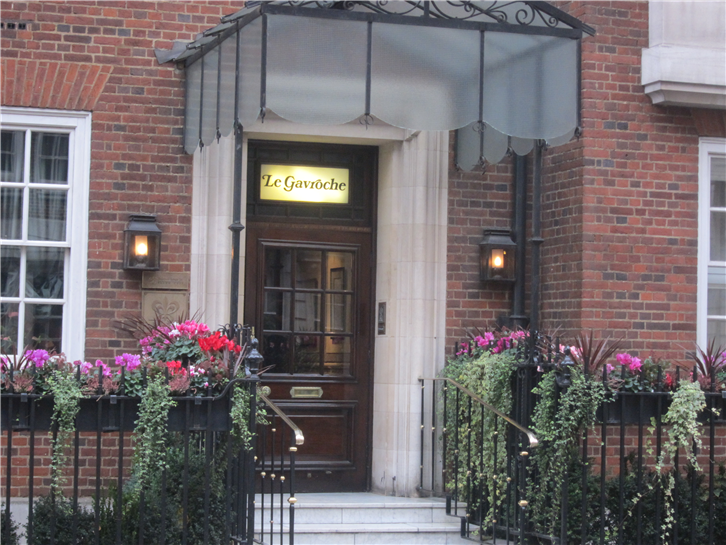 I recall a very pleasant meal at Odette's two years ago, but on this visit the prices were up but the cooking, service (and lighting) had declined. In amongst some perfectly good dishes such a nice soup (though even this had to be sent back to be warmed up) and a good chocolate fondant were some technical errors and also conceptual problems: a lump of chocolate mousse on your venison, anyone? Service was particularly miserable, which did not help the overall experience, again a decline from my previous visit.
Normally if a Japanese restaurant closes, then switches to serving Chinese food with no change of ownership, then this is not a good omen. Hence I was wary yet pleasantly surprised by Made in China, which managed some very good steam dumplings in particular, though its main course dishes rather let the side down.
The Fish Shop on St John Street is handily placed for the Sadlers Wells theatre, and produces very nice haddock and chips. I have found that straying into the more ambitious sections of the menu can be unsuccessful, so tend to stick to the tried and tested when visiting here. Good fish and nice chips are slightly let down by tasteless mushy peas, which have deteriorated since my last visit.
The Brilliant is an old favourite, and this week the highlight was the Amritsar Fish, which they are contemplating putting on the regular menu. I think they should, as this is one of the best dishes I have tasted here. Tilapia pieces are marinated with spices, yoghurt and, crucially, tamarind powder, which adds just a hint of sweetness to the fish, before being cooked in the tandoor. I highly recommend it.
Talking of old favourites, I revisited Le Gavroche (pictured) and was able to take advantage of their bargain lunch (£48.60 including wine and mineral water). I particularly enjoyed a starter of gurnard with Jerusalem artichoke puree and lobster jus, and a fabulous passion fruit soufflé (desserts have always been the strength of Le Gavroche). Technique is always very solid here, and the classical dishes, such as the roast pheasant this week, are almost invariably excellent. Things are not always so sure-footed when they stray into more modern touches, and a marinated kingfish with radishes and sesame i.e. an Asian touch, for me had rather muted flavours, though it was still very pleasant. Service here was as slick as ever.
There was some controversy in Italy as the owners of the venerable Anteria Osterica del Ponte near Milan declined to be listed in Michelin's guides, despite having long been a two star restaurant, claiming that he "no longer wanted to cook for inspectors". This followed a similar gesture last year by famous Italian chef Gaultiero Marchesi, who headed the first Italian restaurant to gain three stars in 1985 but in recent years had lost its prized third star . I confess to being puzzled by this. Michelin in recent years has gone out of its way to recognise restaurants that are not the traditional image of posh places with expensive cutlery: the sushi bar in Tokyo with in a shopping mall with three stars, the recent one star granted to "hole in the wall" restaurant Tim Ho Wan in Hong Kong, where a basket of steamed dim sum dumplings costs less than £1. Given Michelin's secrecy about its criteria, I wonder whether some chefs have worked themselves up into anxiety about what they think Michelin is looking for, rather than what it seems to be actually looking for, or are just throwing their toys out of the pram when Michelin ranks them lower than they believe they should be?
I have updated the map of the three star restaurants. I have tried to make the locations on Tokyo and Osaka reasonably accurate but given the idiosyncratic nature of the Japanese address system, please bear in mind they are not precise.
Santa seems to have come early for me in that a new restaurant is opening near the end of the road where I live. It was previously a dismal pizzeria called Eco, which duly closed in short order once local customers tried their food. It is being replaced by another pizzeria, but this time from Franco Manca, who make the best pizza I have tasted. A short stumble is a lot handier for me than Brixton Market, so this news really made my day. Hopefully they will be able to keep up the same high standards here as at the original; it opens on the 12th December.
Gordon Ramsay Group's retrenchment continues with the selling off of their two Michelin star venture at the London hotel in New York. This was actually the hotel I was staying at a week ago in New York, but I didn't get a chance to eat there, though I did pop in for a drink. Bizarrely, the lady on reception did not even know the name of the head chef, which is rarely a good sign. The place was far from packed when I was there.