A few London favourites
Saturday, January 04th , 2014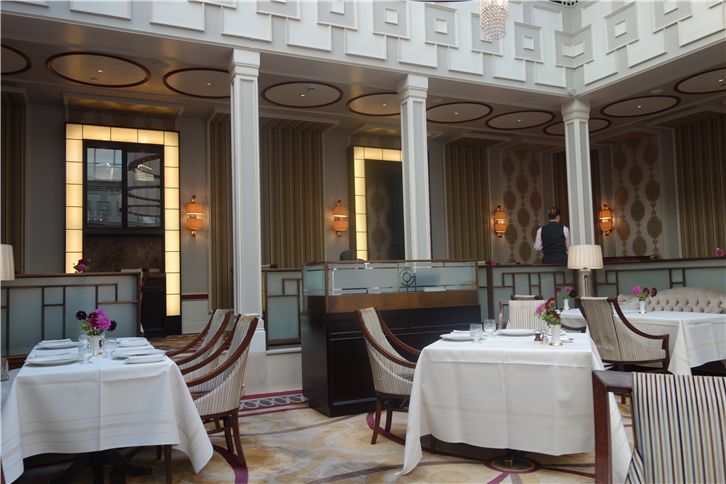 I recently returned to some old favourites in London, including saying goodbye to Apsleys (pictured), which will now close for at least nine months as The Lanesborough hotel undergoes a major refurbishment. I have had some really fine meals there over the last year, and its chef Heros de Agostinis is genuinely talented. A farewell tasting menu included superb tortellini, silky foie gras terrine and lovely pigeon. I very much hope that the management have the foresight to retain the key staff so that the high standard that has been reached can be replicated when the restaurant reopens.
Cambio de Tercio is a little taste of Spain on the old Brompton Road. Everything, from the décor, the Spanish guitar music through to the warm welcome remind me of the home country of its owner. A tasting menu this week included some new dishes, and the kitchen is very inventive in varying its food rather than just sticking with tried and trusted dishes, such as the excellent patatas bravas in the style of Sergio Arola. The excellent wine list just adds to the enjoyment of the restaurant, with its lovely sherry bar Capote y Toros next door.
The Watermans Arms is about the least likely spot to served proper tonkatsu, being a somewhat run-down old boozer in Brentford. Yet its chef/manager lived in Japan for years, and as well as fish and chips he offers a rotating menu of Japanese izakaya dishes. The pub will not win any awards for décor, but the welcome is genuine and the prices extremely fair.
Parlour is where the talented Jesse Dunford Wood now cooks; Kensal Rise certainly has a different feel to his previous place in Kensington, but his quirky take on retro British food is the same. At this meal scallops and sea bass were well-sourced and accurately cooked. Normally a trademark dish is his chicken Kiev (or Kyiv as it is spelt these days) but just before Christmas I tried turkey Kiev, which is a smart way to treat this driest of birds; even turkey meat struggles to dry out when stuffed with garlic butter. The smoked salmon here, made in their own smoke house, is dazzlingly good, and prices are extremely reasonable. The Parlour is in an out of the way spot, but it is well worth the journey to try the food here.
I have long been a fan of the Rasa mini-chain of Keralan restaurants, and realised that it was ages since I had been to their branch on Dering Street, the most central of their places. The menu here goes beyond the vegetarian offerings of the east London original, and as well as excellent Mysore Bonda you can enjoy dishes such as nicely made kingfish curry and tuck into the excellent paratha.
I wish you all happy dining in 2014.