Assorted London dining
Saturday, August 31st , 2013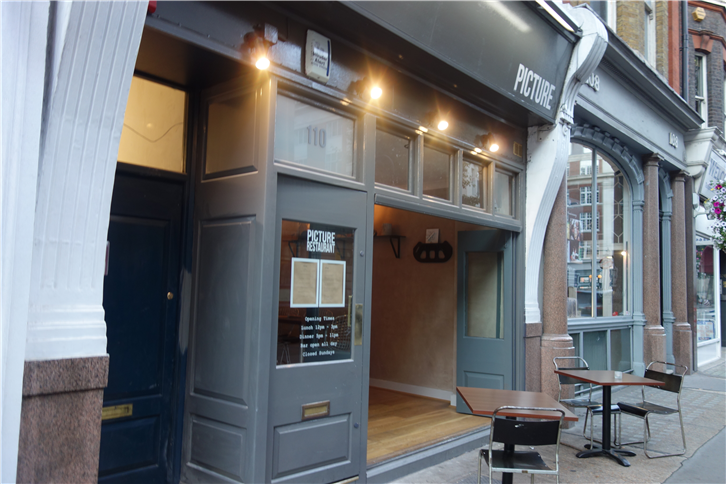 Picture (pictured, if you will excuse the pun) is a Marylebone restaurant from a trio of staff from the Arbutus/Wild Honey stable. The emphasis here, as at their training ground, is on good value food rather than luxury, here in the form of "small plate" eating. The cooking was good, with no real slips and an appealing menu of dishes; there is a mix of European cooking styles, from ravioli to beef with pea salsa. The only real drawback is the deafening noise level. Price levels are fair, though as ever with this format, the bill adds up to more than it may appear when you first look at it.
Red Pocket is a strange place, a smart Chinese restaurant with an ex Hakkasan chef, but in Battersea. To be precise, it is at the hotel next to the Battersea heliport, and the dining room is a cricket pitch or so away from where the helicopters land. It is a tough place to find if you are looking for the hotel (which seems invisible to sat nav, or at least the one we were using), but if you follow the signs to the heliport then all will be well. This formula (weird location, hotel restaurant) has all the potential to be a basket case, yet in fact the food was very nice indeed. We tried a variety of dishes, from dim sum through to pi pa roast duck, and the standard was consistently good. The atmosphere is undeniably odd, but if you don't mind that then you will eat well.
I have long wondered why no-one seems to even try to open a proper Mexican restaurant in London. There is decent Mexican food to be had in the USA, but in the capital we have to put up with bad burritos. I tried two of the more authentic specimens this week. Mestizo is actually run by Mexican people, but that does not seem to help the cooking, which was pretty bad when I visited. Much better was Taqueria in Notting Hill, where ironically the chef is not Mexican but the food is much better, including tacos made from scratch in the kitchen. I actually tried this place twice, and the standard was consistent and good. However it is still some way from the very best that Mexican food has to offer, the finest of which I have encountered being at Punto MX in Madrid.
Recently my iPhone app WineSearch clocked up the number of times it has been used to over 110,000. I designed the app for my own use in restaurants, where I wanted to understand the levels of mark-up on wine lists, and clearly a number of people are also finding this handy. The app can also help you find where to buy your favourite wine. If you have an iPhone then you can find it here.