Kitchen W8 opens
Saturday, November 07th , 2009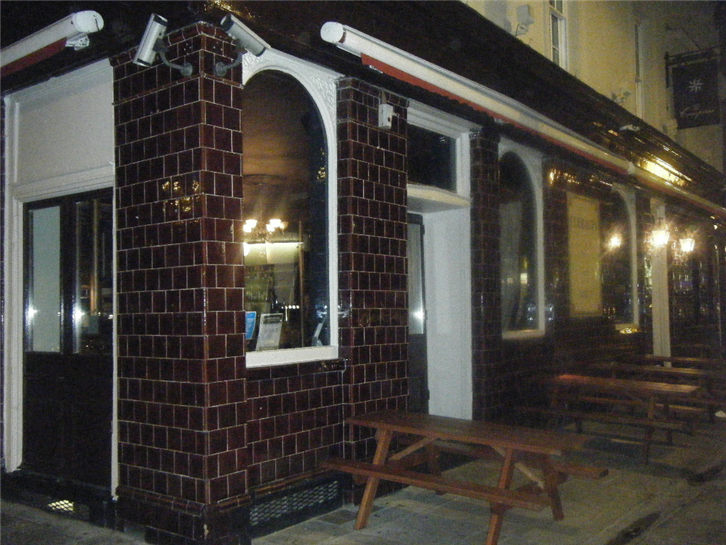 The Compass is an ambitious gastropub (pictured) where there is a care for ingredients shown, and genuine effort put in by the kitchen, even making their own bread on the premises. Not all dishes worked (such as a flawed dessert) but saddle of venison with a rich sauce was enjoyable, while scallops with pea puree were also nice. The staff seemed enthusiastic, and I wish the place well. I felt that the kitchen had not quite settled down yet, but I hope it will do quite well, despite the rather desolate location.
In the old 11 Abingdon Road premises, Kitchen W8 has just opened. Partly owned by Phil Howard, the kitchen has a sous chef from The Square at its helm, and several other staff from The Square in the kitchen and the front of house. This pedigree shows, as the restaurant delivered a really excellent meal, even though it was just days after opening. There were several excellent dishes, and no real errors at all. It is so nice to go to a London restaurant opening these days and be pleasantly surprised.
I had the usual reliable meal at Royal China, though with one twist on the visit. In addition to some dishes we have tried many times we ordered scallops, served in their shell, with black bean sauce. These were unusually large scallops (perhaps four times the normal size; indeed the largest I have seen outside Japan), yet they were cooked extremely carefully, and were tender and sweet. Otherwise, hot and sour soup and gai lan were to their usual standard, and prawns with cashew nuts were also good.
Texture opened in 2007 with high expectations, given head chef Agnar Sverrison's credentials as head chef at Le Manoir au Quat' Saisons. I had a technically good meal there in September 2007, but although it was hard to find much to fault I found the menu slightly unappealing, and at the fairly high prices I did not rush back. On returning this week I had another meal that, though it featured good ingredients and technique, somehow did not quite match the prices charged or indeed my expectations. Again for me the issue was some dishes which I didn't think all conceptually hung together: for example an amuse bouche of cold pumpkin soup with blue cheese and walnuts didn't work for me, the blue cheese flavour dominating, the soup itself probably better if it had been served warm. Objectively the food at Texture is good, but I feel it is not fulfilling its potential.
Pierre Koffmann, chef of three star Michelin la Tante Claire in the old days (it opened in 1977), has recently been running a "pop up" kitchen at Selfridges, which has been deluged with bookings. What was supposed to be a one week exercise has been extended and extended, and The Caterer reports that Pierre has decided that he will return to the stoves properly and open a London restaurant. This will certainly be interesting, since Pierre Koffmann's cooking was very good indeed, and he clearly still has a taste for a life behind the stoves, even at the age of 61.
To add to the list of starry chefs planning London openings in 2010, Daniel Bouloud (whose Daniels in New York recently gained 3 stars) is reportedly opening a venue in London next year. It will be a large 165 seat bistro at the Mandarin Oriental hotel. As previously reported, Heston Blumenthal will be opening a restaurant at the same hotel late in 2010.
While the restaurant economy in London appears buoyant, it seems less so in Stockholm, which has just lost one of its pair of two star restaurants. I never ate at Edsbacka Krog but it is always sad when a high quality restaurant closes. As far as I know only one three Michelin star place ever went bankrupt (Pierre Gagnaire's restaurant in St Etienne before he moved successfully to Paris; I had a reservation there and was due to eat just days before it folded) and certainly it is rare for a place that has achieved two stars to close involuntarily.