Watching the Swiss Restaurant Scene
Saturday, June 28th , 2014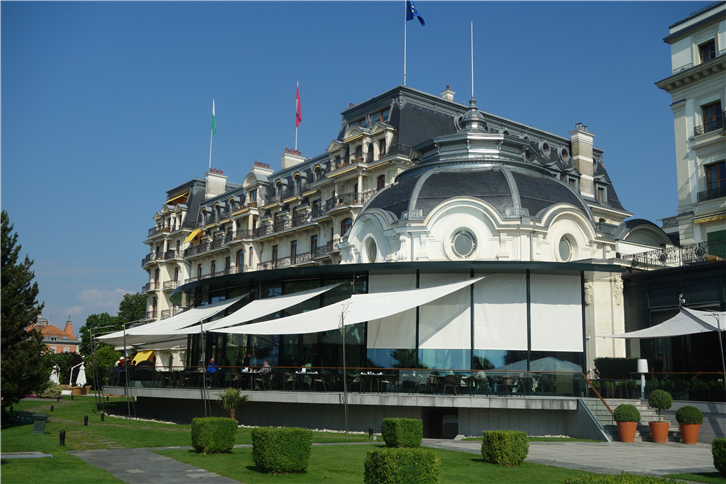 Lake Geneva is a very pretty spot, and has some serious restaurants too. It is home to the École Hôtelière de Lausanne, the oldest hospitality school in the world and generally reckoned still to be the most prestigious in the world. Within this school is a test restaurant Berceau des Sens that the students use to practice their cooking and service skills, and this is open to members of the public. The students are supervised by some prestigious faculty members: on the evening of my visit, the restaurant manager was previously maitre d' of The Fat Duck, and the head chef was a MOF (Meilleur Ouvrier de France) and had earned a Michelin star in his own right in the past. Of course as a student venue not everything is perfect, but the food was actually pretty good, and the service charming. If you are ever in Lausanne then do give it a try.
In the luxurious Beau Rivage Palace (pictured) is the second restaurant of Anne-Sophie Pic, whose flagship Pic in Valence is one of the most prestigious restaurants in France, and has considerable history. Ms Pic was in attendance when I came to lunch at the Lausanne version, and it was good to see that she obviously takes an active interest in the venue. The meal I had was good, but although the desserts and the bread were lovely it was noticeably a notch down from its three star sibling.
A short distance along the lake from Lausanne in Crissier is Hotel de Ville, another restaurant with some great history. This was where Fredy Girardet made his reputation, with Philippe Rochat retaining the three Michelin stars for the establishment. Finally he in turn has made way for his protégé Benoit Violier, and the restaurant still has three Michelin stars. I have actually eaten in all three chef eras, and this was my second meal with Mr Violier at the helm. He has large boots to fill, and he does so admirably. The classical cooking here is as beautiful as ever, the service silky smooth. Indeed I would say that, although it is difficult to make such comparisons, I have enjoyed my two meals here under Benoit Violier at least as much as when his illustrious predecessors were cooking. Another joy of Hotel de Ville is that it does not feel the need to keep up with every restaurant fashion. For example, here is a place where old school French sauces are made, and made well. They are served, as sauces should be served, in generous pools on the plate, not as the artistic dots or smears so beloved of many modern chefs. It is hard for me to recommend Hotel de Ville too highly – it is simply one of the best restaurants in the world.
The blog next week will be published one day later than usual due to travel.