More Tokyo Dining
Saturday, October 06th , 2018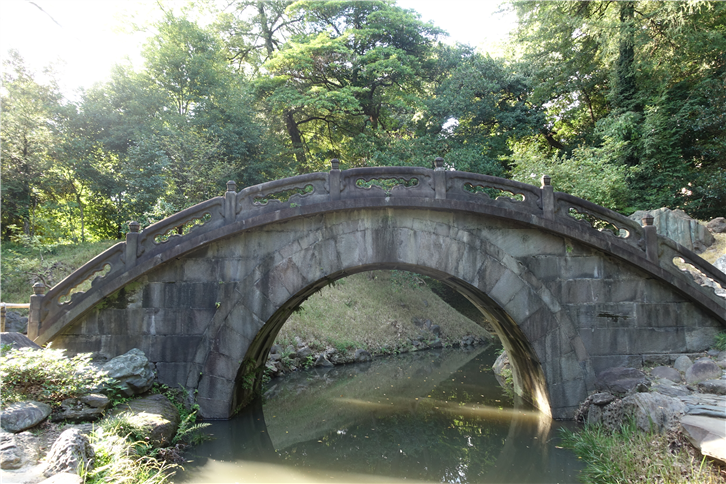 This week I continue my exploration of the Tokyo dining scene. Tokyo is remarkably varied in its offerings, with almost every kind of cuisine and style of cooking available. Tokyo has the great advantage of having fabulous ingredients, not just seafood at the huge Tsukiji market and the famous Japanese beef wagyu, but also terrific quality vegetables and fruit. There is also a huge audience of keen diners, enough to sustain over 140,000 restaurants in the city. Hence my selection of restaurants reflects this wide variety. Although it is a huge urban sprawl it also has plenty of green spaces, such as a park with the attractive bridge pictured.
I had excellent tempura at Tempura Hasegawa and pleasant tempura at Seiju, both of which have Michelin stars. I tried French food at two star Ryuzu and also at Ete, a tiny restaurant with a female head chef and just a solitary table. I had kaiseki at the recent relocated three star Michelin Ryugin, and sushi at Sushi Arai and also at Kurosaki. The meal at Sushi Arai was stunningly good, as good sushi as I have eaten, and the sushi at Kurosaki was also lovely and above expectations. I also tried tonkatsu at the new Ginza Katsukami, and even continued my quest of finding a decent Indian restaurant at Andhra Dhaba, though sadly my quest continues. Hopefully this and the summary last week gives you a sense of the sheer variety of high class restaurants to be found in Tokyo. Whatever your culinary desire you will find it here, seemingly unless you want a really good Indian meal.
The UK 2019 guide was published. No change at the 3 star level, with Alain Ducasse at the Dorchester and The Waterside Inn continuing to defy all reason by clinging on to their 3 star ratings. Core came in at 2 stars, and Moor Hall and Kitchen Table were promoted, but no promotion for the Ritz or Hedone. There were stars in London for Brat (yet Kaia Kaipe, on which it is based, has no star?!?), Hide (fair), Sabor (absurd), Leroy, Roganic (fair) and Ikoyi (maybe a touch kind but it is good to reward somewhere so different). Bewilderingly, there was no star for Indian Accent, nor for Noize, nor Beck at Browns (the latter may have been a timing thing as it only opened in April). However if anyone thinks that Benares, say, serves better food than Indian Accent then they have a screw loose.
Elsewhere there were stars for Rogan and Co, Gidleigh Park, Sorrel, the Flitch of Bacon, Olive Tree, Winteringham Fields, Salt, Oxford Kitchen, Fordwich Arms, White Swan, Blackbird and Bulrush. There were some controversial demotions, with Champignon Sauvage down to one star along with Gidleigh Park (but that had a chef change). Other restaurants to lose their stars were Ellory (closed), HKK (closed), Outlaws at The Capital, Jamavar (why?) Lima (finally), Ametsa (at last), and Tamarind (which has been closed for months for refurbishment). Outside the capital, the losers were The Royal Oak, The Butchers Arms, JSW and The Harrow at Little Bedwyn. Probably most shocking is The Box Tree in Ilkley, a restaurant that has held a star for 16 years and indeed had a star in the very first UK guide in 1974. In Scotland, The Boath House was stripped of its star, while Albannach lost its star (rightly) and Martin Wishart at Loch Lomond closed permanently due to a major fire. The UK now has five 3 star restaurants and 19 two stars, as well as 142 one star restaurants (of which 58 are in London, 8 are in Scotland, 7 in Wales, 2 in Northern Ireland, and 67 in England outside London). In Ireland there were new stars for Mews, Miyazaki and Chestnut. Ireland has one two star restaurant (Patrick Guilbaud) and 13 one star restaurants. All in all it was a fairly bewildering set of choices, with nods to the hipster scene but some odd omissions. As to why they would kick the hard working David Everitt-Matthias in the teeth at Champignon Sauvage yet allow the Waterside Inn to sail along producing its current ordinary, overpriced food and keep 3 stars, it is puzzling to say the least.