Core Competence
Saturday, August 19th , 2017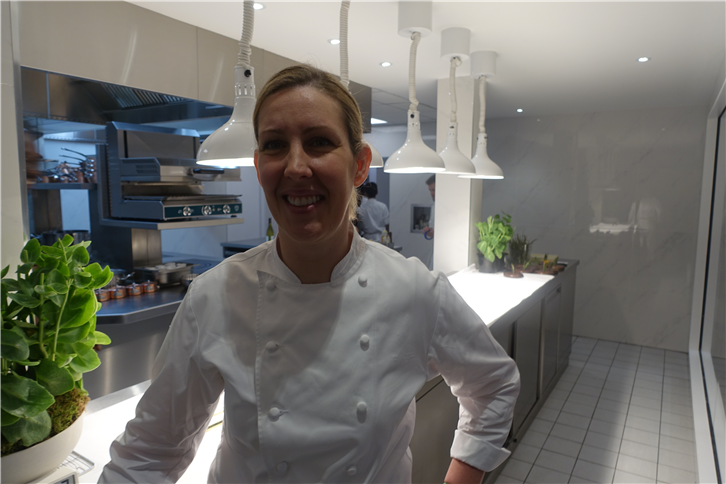 It is not often that the head chef of a three star Michelin restaurant decides to up sticks and strike out on their own, so it is fair to say that there was considerable anticipation when Clare Smyth (pictured) did just this. She has long been the head chef of Gordon Ramsay's three-star Michelin restaurant in Royal Hospital Road, and has now opened her own place, called Core in Notting Hill, in the premises that once housed the famous Leiths. I went quite soon after opening and yet the food and service operation showed no signs of teething troubles whatsoever. The tasting menu delivered a series of excellent dishes, including a particularly fine Isle of Mull scallop, with just one relative misstep in the whole meal. To be sure, Core is not cheap, but neither is it excessively expensive given the quality of the cooking, and I will be very surprised if I eat at a better London restaurant opening this year.
Saponara is an altogether simpler affair, an Italian delicatessen turned restaurant in Islington. It has been there for ages, and although it is quite old fashioned in a number of ways, I actually found it rather charming. You sit in amongst the shelves of olive oil and charcuterie to eat your dinner, so it feels as if you have camped out for dinner in your local corner shop. The food is nice rather than anything remarkable, though I did like my pasta dish, and prices are moderate.
Gauthier is very much a restaurant for grown-ups in an era where every new restaurant seems to pride itself on looking like an abandoned warehouse. At Gauthier there are still tablecloths, brick walls are covered, electrical cables invisible behind plaster rather than dangling over your dinner table. More importantly, the food continues to be excellent, with very well executed classical cooking. A wild sea bass dish at this meal was particularly impressive, but all the dishes were of a high standard. It is absurd to me that Michelin removed its star some time back, when I compare the standard of cooking here to many other starred London restaurants.
The Brilliant has been a regular haunt of mine ever since I moved to west London in 1991. It has been through a number of upgrades over the years and now stretches over two floors, with a recent refurbishment delivering far smarter décor than was the case when I first went there. The cooking has evolved over time too, lighter than it once was, though it still delivers the punchy Punjabi flavours that delighted me all those years ago. At the latest meal, a starter chaat was particularly well judged, with excellent tamarind chutney and a nice kick of chilli, whilst my favourite methi chicken was as rich in fenugreek flavour as ever.