This week I try the wildly popular MEATliquor and the revamped Quo Vadis
Saturday, February 11th , 2012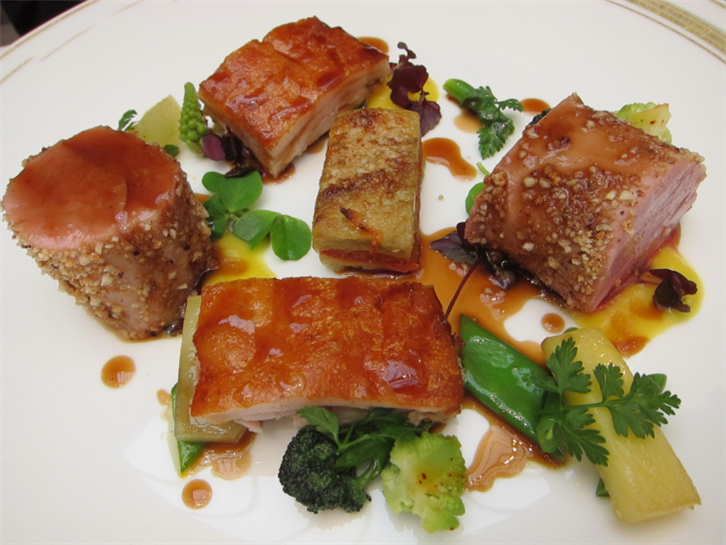 Quo Vadis has re-opened after a refurbishment, looking brighter and roomier than previously. More importantly it has a new head chef in the form of Jeremy Lee. Jeremy trained in some of London's top dining rooms before a long stint running the kitchen at The Blueprint Café. The new menu is simpler and cheaper, very much in bistro territory. The eel toasted sandwich was simple but very enjoyable, and a duck and pheasant pie a hearty treat. Previously the food at Quo Vaids was good, but it seemed to be stuck in the no-man's land between bistro and fine dining: now it feels much more coherent.

Apsleys delivered another really fine meal this week. The pasta dishes here are top drawer, as with a lobster tagliolini, but a new dish of suckling pig (pictured) had superb flavour, and desserts were as classy as ever. This is a great spot for lunch on a sunny day, with the airy dining room and the natural light from the large skylight. Apsleys has now firmly moved ahead of the other starred Italian places in London, and for me it is now operating is solid two Michelin star territory.

Le Cercle is sister to Club Gascon. I recall a very good meal here several years ago, but this week we had a very disappointing experience. Only one dish was anywhere near the standard that I recall, with a couple of very ordinary dishes appearing. The staff were very nice about it but it is always sad when a restaurant that you used to like serves up a much less good meal. I am not sure whether this was an off-night or a sign of a more general slipping of standards; I hope it was the former.
Chisou in Chiswick, little sister of the ones in Mayfair and, more recently, Knightsbridge, continues to settle in. Good grilled mackerel and beef tataki this week were let down a little by mediocre rock-shrimp tempura, though the kitchen is showing signs of settling down. The owners have done a fine job of decorating the space, which actually looks smarter than the other branches, and hopefully the food will in time be on a par with the more established branches.

MEATliquor, much beloved of the twitterati, serves US style burgers oozing with pickles, and very nice they are too, as were the fries. Other dishes I sampled there were less impressive, so I would stick to the burgers if you decide to visit. However the place seems consciously designed to put off customers, or at least pesky middle-aged customers like me. There are no reservations taken, so people queue outside in the cold, then are shown to bar stools and chairs that exhibit a degree of discomfort that would have gained a nod of approval from the Spanish Inquisition. This theme continues, since the gloomy room is decorated in a way that reminds me of one of those warehouse settings in torture porn horror films where the victim is taken. Loud music and stony-faced waitresses who glide past without paying attention to their customers complete the atmosphere. Personally I will be sticking to the pricier but better burgers at the likes of Goodman or the Admiral Codrington, and where they have old-fashioned things like utensils and an awareness that they are in the hospitality business, rather than the inhospitality business.