A varied week of dining in London
Saturday, November 09th , 2013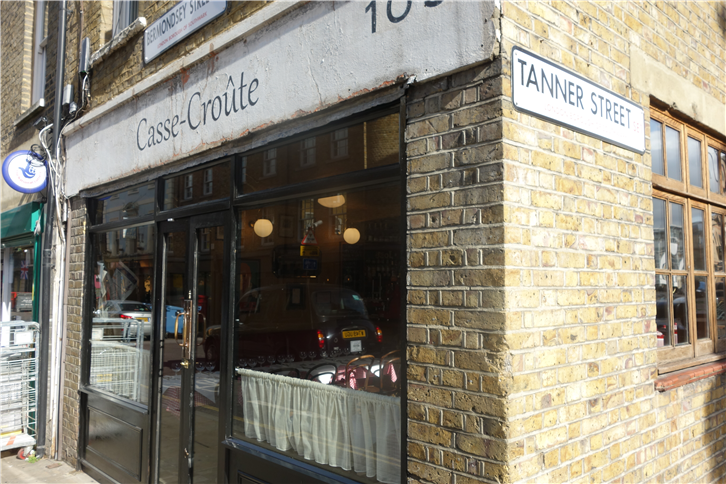 Casse Croute is a simple French bistro in Bermondsey, with a head chef who previously led the kitchen at Morgan M. The short menu is printed on a blackboard and has no concessions to modernism: you might try a cheese soufflé, duck parmentier and apple tart, for example. The prices are fair and the staff charming, and although the cooking itself is not going to set the world alight it is very enjoyable. A charming little place.
Pied a Terre felt on surer ground at this meal than my last one here. The cooking has definitely made the transition to Marcus Eaves' own style, which generally is marked by appealing classical cooking. A quail dish in particular was terrific, and a mango millefeuille and top class petit fours showed that the pastry section is on song as well. It is good to see the old place back on form.
There is a new chef at Cotidie, the Marylebone Italian restaurant. Although the restaurant had a lukewarm reception in the media, I always liked Bruno Barbieri's food, but he has now returned to Italy. Although the new chef himself headed up a Michelin starred kitchen there, the cooking that I tried was less assured than it was previously. The best dishes, such as a light Gorgonzla flan, were excellent, but not everything was of this standard. Unevenness is harder to overlook when the pricing is as high as it is at Cotidie.
I enjoyed another excellent meal at Dysart in Petersham. The menu changes regularly here, though a few excellent dishes I tried on previous visits were still available. The chef is not afraid to mix in Asian spices to his otherwise classically based French cooking, as for example with stone bass and a quite spicy sauce. However the flavours never seem unbalanced. The very kindly priced wine list and the charming service add up to a fine overall experience.
Bo Lang is a flashy Chinese restaurant in Chelsea, and I didn't like it. The cooking was mostly competent but the pricing was absurdly aggressive. A small bowl of egg fried rice was £9, which is one of the most outrageous pieces of gouging I have seen in a long time, even in London.
The 2014 Michelin guide to Italy was published. There was a promotion for Reale (with chef Niko Romito) in Castel di Sangro to 3 stars, bringing the total for Italy to eight. There were two star promotions for Villa Feltrinelli, Devero and Locanda Don Serafino, with a demotion for Rosselinis. This brings the total for two stars in Italy to 40. There were also 29 promotions at the one star level and ten demotions, with the new total of one star restaurants in taly now standing at 281. By comparison, the UK has 4 three stars, 20 two stars and 134 one star restaurants.
The 2014 Michelin guide to Germany was also released. There is a new 3 star restaurant in the form of the unfortunately named (to a British ear) Uberfahrt south of Munich; the name actually means "crossing" and it is set on a very pretty lake. There were also three new two star restaurants: Schlossberg in the culinary haven of Baiersbronn, FACIL in Berlin and Tiger-Gourmetsrestaurant in Frankfurt. La Vision lost its two stars. There were 39 new one star places and 19 demotions of places that used to have a star. In all Germany has 11 three star restaurants, 37 two stars and 227 with one star.