The Amalfi Coast
Saturday, October 29th , 2011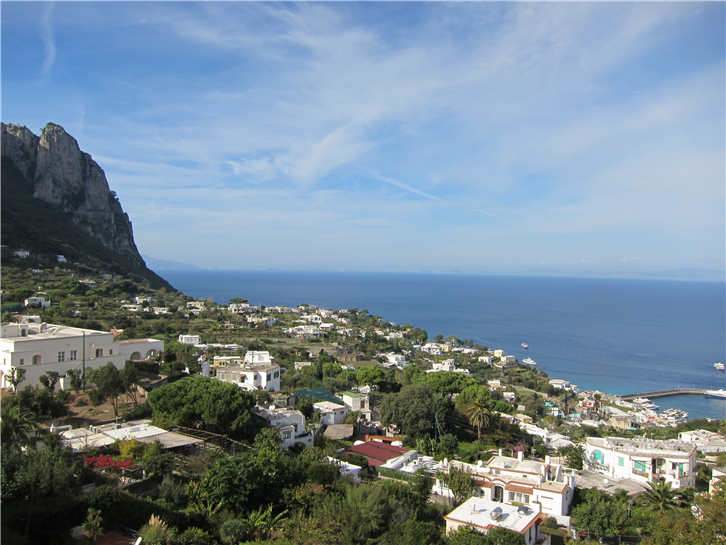 The Amalfi coast has spectacular scenery, and has been a favourite haunt of the rich and famous ever since the Roman Emperor Tiberius lived out his retirement on the island of Capri (first picture). The island has spectacular views, an attractive town centre and some impressive sights such as the Blue Grotto, although it is extremely popular with tourists. You can get to Capri in under half an hour by ferry from Sorrento (also a pretty town) or via a slightly longer ferry ride from Naples.

Also in this area is the justly famous site of Pompei (second picture),a whole town frozen in time, buried under lava from a sudden Mount Vesuvius eruption in AD 79, and re-discovered in the 18th century. It is remarkable that you can still read many of the original inscriptions on the walls, see a mural beautifully preserved inside a house and countless other sights from almost two thousand years ago.

The Amalfi coast itself has stunning views along its winding coastal road, with pretty villages such as Positano and Ravello (third picture). Driving can be a hair-raising experience given the narrow roads, the steep cliffs and the remarkably reckless overtaking habits of the local drivers.

We tried four restaurants of significance in the area. Quattro Passi was good in places, but served one poor main course, and had some other ups and downs. The staff were at least extremely nice about the problems that occurred, which is more than could be said at two star Taverna del Capitano, where we had a quite frosty service experience even before we had a problem with our main courses.

October is late in the season here and many places close over the winter, but I was surprised that the head chefs of these famous restaurants were absent this week. This matters little if there is a well-oiled team in the kitchen capable of turning out high quality food whether the head chef is there or not, but the wild inconsistency at these two restaurants in particular suggests to me that their chefs would be better off paying attention to what is happening in their kitchens than heading off for consultancy contracts and cooking shows elsewhere.

Much better cooking was to be found at Torre del Saracino, a seafood-oriented restaurant directly on the coast. In particular I had an excellent main course and a superb dessert here, while service was classy.

However the best cooking of all was at Don Alfonso 1890, whose cooking is deliberately simple and aims to highlight the produce used, which is of the highest quality. Many ingredients are grown on the family farm just a few miles away, and the quality of the tomatoes in particular here was extraordinarily high. We had a couple of dinners here and found the cooking to be consistently excellent, and the staff were particularly welcoming. I would highly recommend this establishment to anyone planning to be in this part of the world.