The Hand and Flowers reviewed
Saturday, September 11th , 2010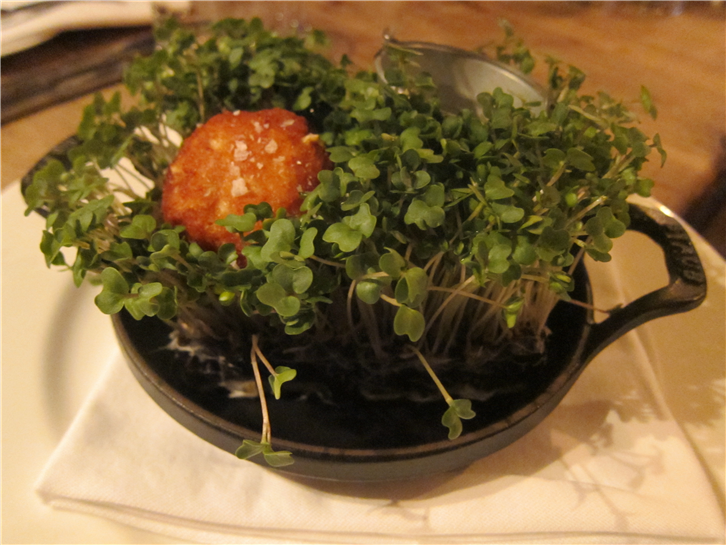 The Hand and Flowers is one of a clutch of serious restaurants in Marlow and the surrounding area, but it is still very much a pub in format. We had a generally good meal on our first visit there, with a cherry soufflé the star dish. However there were a few niggles: a salty risotto, poor cabbage and a bland trifle, which dragged the overall level of the meal down a notch. For a pub it has quite high prices e.g. a very good crayfish and quail Scotch egg (pictured) was over four times as expensive as the superb venison Scotch egg at the Harwood Arms. It was still a good meal overall, but for me it was less consistent than it should have been, and not as enjoyable as dinners I have had recently at some of its competitors, such as The Royal Oak.
Comptoir Gascon is the bistro sibling of Club Gascon, and offers the same rustic cooking from the south of France. On this visit at least, though, the delivery was inconsistent, especially in the savoury dishes. Overcooked scallops and a mackerel dish drowned in spicy tomato sauce were well below the standard one might hope for, and although desserts lifted things, this was a disappointing meal when considered as a whole.
I had another enjoyable meal at my favourite Spanish restaurant Cambio de Tercio, and judging by the way they were turning tables on a Tuesday night, I am not alone in liking the place. A stand out dish of a tasting menu was a foie gras "ice cream" on a bed of yoghurt and date puree; foie gras is such a distinct flavour and the dates were an interesting balance to the dish. There was also evidence of care in ingredient choice with some excellent, simply cooked grouse and venison. For me this place is a cut above the other Spanish restaurants in London, and as a bonus has an excellent wine list with a fine selection of Spanish wines and sherries.
Franco Manca continued on form this week, and the Chiswick branch is proving more and more popular. I have noticed that their waiting staff, who seem to change a lot, can be a bit dippy at times (though always friendly), but the pizzas are the business, as is the superb coffee here (if only more Michelin starred restaurants produced coffee of this quality).
Gordon Ramsay group saw their pub The Warrington closed this week, following shortly after the closure of his pub The Devonshire. The restaurant industry is a tough one, and this shows that even a major brand name cannot ensure success. Yet many recent openings are flourishing at the moment, with packed dining rooms days after opening for some places that I have reviewed recently. A good location helps, and I am always surprised that restaurateurs take a chance on marginal locations just to take advantage of cheap rents; in a typical restaurant business the rent may account for something like 5-8% of overall costs, so getting a lower rent has a significant effect on profitability but nowhere near as much ensuring that the restaurant is full. Of course there are many factors that contribute to this, but The Devonshire was an example of a really poor location, a long walk from the Chiswick High road, cut off on the other side by the A4, quite some way from shops and passing trade, and nowhere near any offices that could support much lunch-time business. Even the Ramsay brand was unable to compensate for such a poor choice of location; it was a closure just waiting to happen. We all know of restaurant sites local to us that seem to be doomed, with a revolving door of different restaurants that each last a year or two, before folding and making way for a new set of owners; the odd thing to me is that these sites always seem to find someone to take them over, convinced that it will be different this time.
This week saw the publication of the 60th edition of the Good Food Guide. It used to be said that the British colonised so much of the world because they were looking for a decent meal, and back in 1951, when Raymond Postgate began the Good Food Guide, that was probably a fair comment. These days the UK has plenty of good restaurants, even if it struggles to compete at the very highest levels with the best that the continent has to offer. The Good Food Guide plough its own furrow, and whilst some of its scores can seem eccentric, it has the great virtue that it is scrupulously honest; inspections are anonymous and its team of part-time inspectors are paid by the Guide; there are no hidden fees (such as those charged by the AA Guide and many others) or restaurant advertising, which can cause editorial interference in the reviews. As far as I am aware, out of all print guides to restaurants the only other guide that can claim that degree of integrity is the Michelin Guide. I wish the Good Food Guide a happy 60th birthday.
As in the 2010 Guide, there is a vast gulf in the numbers of Good Food Guide entries per head of population between counties. Cornwall manages 53 entries per million people (Cumbria is next best at 44, followed by Greater London at 40). At the other end of the scale, Staffordshire manages less than 2 entries per million people, with Essex less than 3 and Bedfordshire a little over 3. A crude measure, to be sure, but the discrepancy is considerable.