In Ghent
Saturday, September 27th , 2014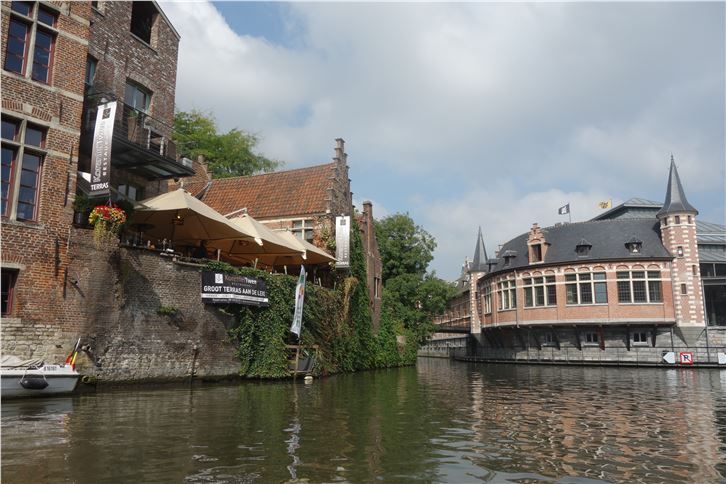 Hof van Cleve is located in an isolated farmhouse in Flanders near the Dutch border; it is not too far from Ghent (pictured), a very pretty town reminiscent of Bruges. This was the final restaurant of the trio of Belgian three star Michelin places that I have revisited in recent weeks and it is clearly the best of the lot. The menu is a pleasing mix of old and new, not wacky modern but not old-fashioned either, based around top quality ingredients and impeccable technique. Dishes are appealing rather than feeling like challenges thrown down from the chef to the diner, as happens all too often these days. There were many fine dishes, but beef with ras el hanout, and a superb spiced soft-shell crab nibble were particularly impressive. This is very serious three star cooking.
Back in London I revisited Chisou, a Japanese restaurant in Chiswick that is the sister of a longer-established one of the same name in central London. The premises of the west London version are tucked away down an obscure side street, opposite Sam's Brasserie and near the Post Office. The room is very smart and the menu offers a wide range of styles of cooking, from sushi through to tempura and beyond. The best dish was a pretty salad topped with fried pieces of prawn, though a separate tempura scallop dish was less successful. This is a decent if slightly erratic place in my experience, but if you order carefully then you will have a good meal.
An old favourite is the Bombay Brasserie, the first really ambitious Indian restaurant in London, and one that I used to frequent in the 1980s. Standards eventually slipped, but it was relaunched in 2008, and has been restored to its former high standard. The cooking here features unusually high quality ingredients for an Indian restaurant, and the cooking is excellent. A biryani had particularly impressive rice, and the kulfi malai for dessert was made in the kitchen and was lovely. This is a restaurant that seems oddly untouched by media, social or otherwise, yet it did 135 covers on the weekday evening that I visited, so its customers have clearly figured things out without the help of the press.
Pavilion is a smart bistro in Kensington High Street, part of a business-oriented private club but where the restaurant is open to the public. In the kitchen is Adam Simmonds, previously Michelin-starred head chef of Danesfield House. The ambition level of the food here is dialled down for the larger premises and all-day format, but we had a very pleasant meal, with a venison dish the highlight and desserts the relative weakest link. The value for money factor here, though, is debatable.
The first offering of the 2015 Michelin season was released this week, the UK and Ireland guide. There was no change at all at the two or three star level. There were stars for The Star Inn in Helmsley, The Cross at Kenilworth, Outlaw's Fish Kitchen in Port Isaac, The Treby Arms in Sparkwell, The Three Chimneys on the Isle of Skye, Ynyshir Hall and the reopened Crown at Whitebrook. In London there were stars for Kitchen Table at Bubbledogs, City Social, Clove Club, Fera, Gymkhana and Barrafina. As well as closures like Viajante and Tom Aikens, there were deletions of stars for 36 on the Quay, Danesfield House (the chef left), Holbeck Ghyll (puzzling to me), Glenapp Castle, Inverlochy Castle, Chapter One in Locks Bottom (a shame), Medlar (a tad harsh), Nobu and Nobu Berkeley.
With one exception, I actually have little issue with the inertia at the very top end, though Alain Ducasse at The Dorchester seems to lead a charmed life. I am disappointed that Michelin have yet to recognise the quality of the cooking at Hedone, whose cooking is now streets ahead of many UK two stars, never mind the one star places. There continue to be high quality places omitted entirely, such as Sushi Tetsu, The Greenhouse in Dublin, Typing Room, the Ritz and Dysart. I mean really - would you rather go to Dysart or to, say, Ametsa? However in general those complaining about the lack of new two and three star places in the UK should eat abroad more to understand why: if you dine at a good 3 star place in Germany or France (or Japan) you will see a significant gulf between the best places there and the UK's culinary glitterati. Congratulations to all those kitchens that gained a star.
One pleasing side note was a bib gourmand for the charming Crown at Burchett's Green, whose kitchen has precisely one member of staff. It is good to see recognition for such a place, which must be a real labour of love.