A new regime at The Greenhouse
Saturday, June 02nd , 2012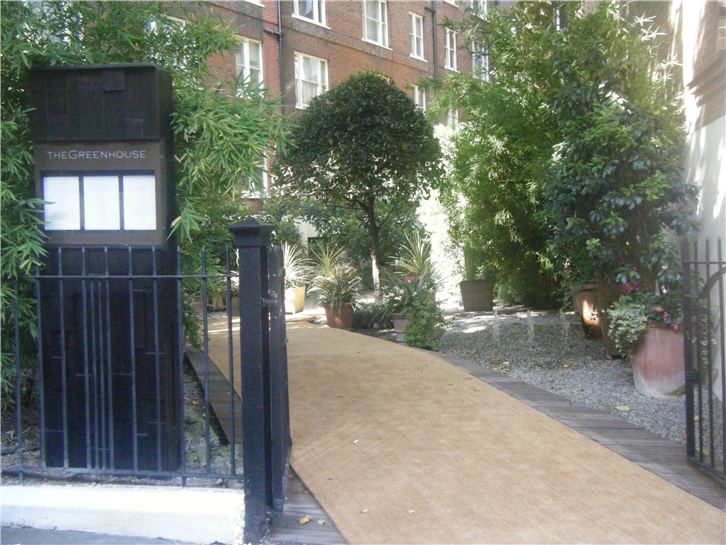 The Greenhouse has, for some weeks now, had a new head chef. Antonin Bonnet is opening his own place in Paris, and his replacement is Arnaud Bignon, previously head chef at Spondi in Athens, which was Greece's only two Michelin star restaurant. I wish I could say that the cooking had gone up a notch, but it hadn't based on what we tried. Challans duck was very good, as was a nice lemon dessert, but our starters were not of this level, and the bread was ordinary. The one thing that has gone up since my last visit is the price, which to be sure reflects good quality ingredients such as the duck and the nice langoustines I tried, but is still an awful lot of money for the level of cooking. My langoustine starter at £49 cost more than a whole dinner at La Trompette, while a heavily marked up wine list and expensive incidentals (£5.50) for a bottle of mineral water) bumps the price up further. The Greenhouse is certainly producing some good food, but its pricing strategy is going to put many customers off.

The Two Brothers in Finchley has the reputation of being one of the best fish and chips shops (strictly, it is a fish restaurant, with a chippie on the side) in London. Haddock and chips were good, but the Dover sole we tried was disappointing, and the service was dismal. I have tried just about all the main London fish and chip shops over the years, and I am constantly surprised at what a low standard is set. I can recall better fish and chips on a visit to Skegness many years ago than I have encountered at a chippie in London. After all, we are not talking here about producing subtle sauces: the cooking instrument is a deep fat fryer. Yet fish and chips can be a lovely thing, as shown by Simon Hopkinson when he was cooking at Bibendum many years ago, My conclusion is that you are better off going to a good restaurant that happens to have fish and chips on the menu: Bull and Last is one example of this, with its triple cooked chips.

I tried two Keralan restaurants this week. Rasa Maricham has the most unlikely of culinary settings, nestled in a Holiday Inn in Kings Cross. Yet the Keralan food that it produces is good, sister as it is to the best Keralan restaurants in London. Mysore bonda is a particular favourite dish of mine that they make very well there. Ragam has been trading for 27 years, producing very good uttapam in particular, and continuing to pack the punters in after all these years.

Hedone have now started a cheap lunch option: £19 for two courses, £25 for three courses, which gives people a way to try out their cooking while not forking out much. Of course you are not going to see turbot or 60 day aged beef in such a menu (though such things can be sampled at a supplement) but the dishes still show the same level of skill and ingredient commitment as the dinner menu. I had a lovely slow-cooked duck egg dish with peas, broad beans, carrots and lardo di colonatta, followed by line-caught pollock with watercress and baby gem lettuce. The pollock was a world away from the tasteless creature that we have become used to on London menus. The lemon variations dessert was refreshing and had particularly well-made lemon mousse. They even throw in an amuse-bouche, and of course there is the wonderful bread, which is by a wide margin the best bread in any London restaurant now.

In other news, there is a change in the kitchens at Apsleys. The new head chef is Heros de Agostinis, previously head sous chef at Pergola in Rome. I wish him well in his new role in London.