Michel Guerard revisited - a week in Bordeaux
Saturday, May 01st , 2010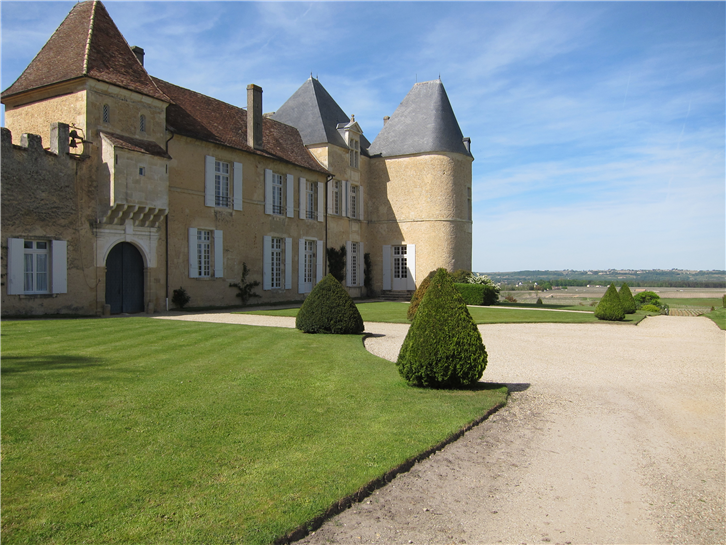 I had a mostly enjoyable week in the Bordeaux area. Bordeaux itself is a pretty town on the banks of the river Garonne with a pedestrian-only centre, and plenty of fine buildings. We stayed at a pleasant property called Hotel Le St James, which is perched on a hill overlooking Bordeaux. We managed to visit some excellent vineyards, including Chateau Yquem (pictured), and were invited to a fine lunch at Chateau Climens.
Our restaurant eating in Bordeaux itself was less satisfactory. Le James has a two star restaurant that was unfortunately closed due to refurbishment, so I opted for the one star Pavillon des Boulevards. The cooking here was mostly decent, though rather below one star standard in my view, but the prices were wildly optimistic, with even starters costing around EUR 40. Given that we were half the entire audience of diners for the evening, perhaps they should review their pricing policy.
Value for money was also a major problem at La Tupina, which pops up on endless lists of places to eat in Bordeaux, but I found very disappointing and wildly expensive for the level of cooking on offer. The wine list also has pretty savage mark-ups.
After this we travelled south to Michel Guerard. There are two restaurants here, the rustic Ferme au Grives and the three star main restaurant. This is an attractive place to stay, with lovely gardens and a health spa too, if such things appeal to you. However the point is the food, which is based on getting the most out of very high quality produce. Ferme au Grives is the sort of rustic bistro that one dreams of, yet in reality, when outside such skilled hands as here, almost always disappoints. The difference in quality between this and Lat Tupina was immense, and yet Ferme au Grives is much cheaper.
At Michel Guerard, dishes are pared back to the simplest elements: how many three star restaurants would serve a potato soup, or a roast and smoked lobster served on its own? Yet such simplicity can only work if the underlying products are superb and the cooking technique perfect, which they are here. Slightly more elaborate dishes included a magnificent pigeon and sweetbread pithivier with stunning demi-glace. The kitchen showed that it could also move with the times, with a superb refreshing starter of salad of scallop and herbs with Thai flavours. The skills on show include pastry in assorted desserts that is as good as any I have eaten. Michel Guerard is now 77 years young and still looking spry, his kitchen producing food that is pretty near perfect. Treat yourself.
In London news, The Boxwood Café closes; the exciting news is that this will be the venue for a new restaurant with Pierre Koffmann at the stoves. The disappointing Borde'aux at the Grosvenor also closed, being replaced by the JW steakhouse, which will use USDA corn-fed beef.
The annual San Pellegrino "Top 50" restaurant list came out. I have written before about this (having been on the panel several times), so will not dwell on it other than to say that it is a great PR exercise that gets people talking about high-end cooking, which must be a good thing. It also gives a chance for some restaurants in more obscure corners of the world to get publicity. Just don't analyst the list too carefully or the peculiarities will make themselves apparent, like looking too closely at a Hollywood film backdrop. It was nice to see Ryugin getting a look-in, and ditto Eleven Madison Park, while I was pleased to see Aqua doing well. I feel that such lists have limited real meaning, since at this level choosing one restaurant over another is very much a personal choice: chefs naturally enough prefer to reward inventiveness and success, hence the list of very modern restaurants at the top of the list. For me, the Michelin idea of grouping top places into categories is more reasonable, but there is no denying that the "Top 50" generates headlines, whatever its obvious flaws. It is best, however, not too take the actual list too seriously. For example: quickly, name the two top restaurants in London. Did you say St John and Hibiscus? Funny that, neither did I.