Vegetarian Italian cooking near Smithfield meat market
Saturday, November 13th , 2010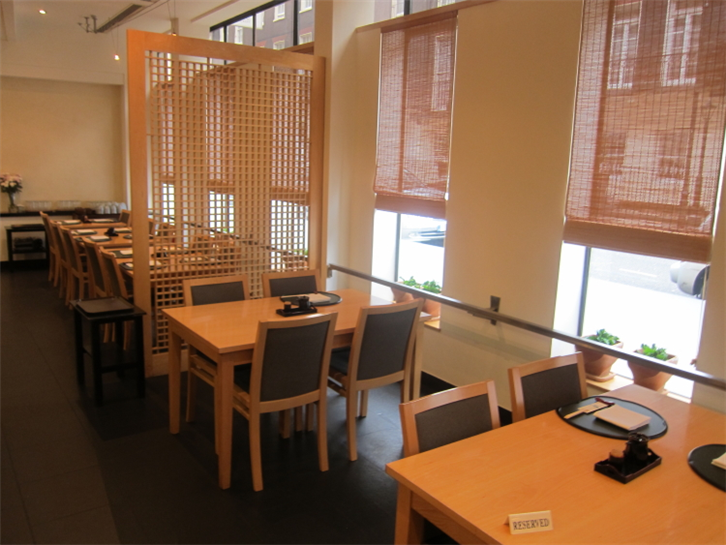 Kiku (pictured) is a Japanese restaurant that has survived for 32 years in central London, so must be doing something right. Mainly catering to a Japanese clientele, the restaurant served up particularly good sushi in a tolerably priced set lunch menu (prices are significantly higher for dinner). This must certainly be amongst the better Japanese restaurants n London.
Amico Bio is an unusual concept, a vegetarian Italian restarant. Tucked away in a quiet side street near Barts Hospital, the chef/owner made us very welcome despite us being the last diners to arrive that evening (in some restaurants being the only thing between the staff and their bedtime can be an awkward place to be). The food was certainly very cheap, and pleasant enough e.g. nice bruschetta and pleasant home-made tagliatelle, though a tendency to under-season was a problem with bland arancini. We were made most welcome, and given the very modest bill this was a place that would be not hard to like, even if the cooking was rather uneven.
It is some time since I have been to Club Gascon, which has been turning out its dishes from the south-west of France for more than a decade. I enjoyed my meal a little less than my previous visit. The foie gras was still good, and a fillet of beef was excellent, as was a chocolate dessert, but there were several less good dishes, which dragged down the overall experience. Given the quite high prices that Club Gascon charges, errors leave an unpleasant taste in the mouth. It was still an objectively good meal on food terms alone, but I was uncomfortable about the value for money factor.
It was nice to be back at Koffmann's, and this time I sampled the fabled stuffed pig trotters. This is Pierre Koffmann's most famous dish, and I can really see why. It was every bit as good as I remember it from La Tante Claire days, a wonderfully decadent, rich dish. The pistachio soufflé was again superb. For me these are the stand-out dishes on the menu. The evening was somewhat marred by some surprising service blunders, but this is still a very enjoyable restaurant at which to eat.
Tangawizi has had a light refurbishment, which is a noticeable improvement on the previous décor. Fortunately the food is unchanged, and dish after excellent dish appeared: monkfish tikka, spicy cauliflower florets, tender murgh malia tikka, excellent aloo gobi and mushroom curry and the magnificent kidney bean dhal. Above all the naan bread is truly superb, right up there with the best I have eaten in India. I can only think that the Michelin give only a Bib Gourmand to this, and yet a star to certain other Indian places is somehow based on smartness of surroundings, as the food at Tangawizi is as good as anywhere in London.
Tarantella is a pleasant family-run pizza and pasta restaurant local to me. Its pizzas are very good, a cut above the high-street chains (though not in the Franco Manca league), and its pasta dishes are generally pleasant e.g. some reasonable gnocchi this week. Above all the staff are extremely welcoming. Not a destination restaurant, but I am glad to have it on my doorstep.
Marcus Wareing is seemingly to open a second London restaurant in mid 2011, a 120 seat brasserie at the St Pancras Renaissance Hotel called The Gilbert Scott, after the architect who designed St Pancras.
The Michelin Guide to Germany 2011 came out, showing no change at the three star level. There are the following new two star restaurants:
Park Restaurant, Brenner's Hotel, Baden Baden
Sterneck, Badhotel Sternhagen, Cuxhaven
Villa Rothschild Kempinski, Koenigstein
La Belle Epoque, Luebeck-Travemuende
Restaurant Faehrhaus, Sylt

taking the German two star total to 23. There are 26 new one star establishments, with 14 losing their stars.
It is nice to see a small Pierre Herme outlet now in London, in Lowndes Street, a few doors down from Zafferano. None of the wonderful pastry here that you can get in the flagship Paris store, but at least there are the lovely macaroons and assorted other goodies.