Rules rules the roost
Saturday, October 17th , 2009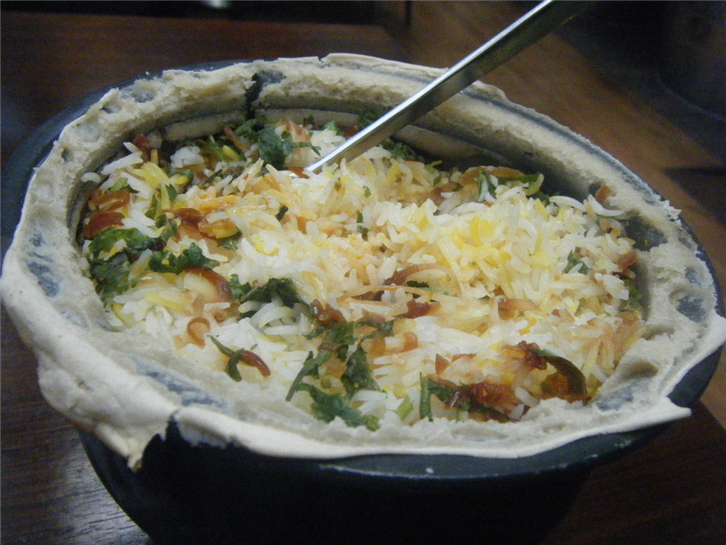 Rules is a London institution, its oldest restaurant, and one which is entirely comfortable in cooking classic dishes that people want to eat, rather than bending to every culinary trend or whim. Although there were a few sloppy aspects to the meal, the main elements were fine, including particularly tasty roe deer. Game is the thing here (this is a restaurant with its own hunting estate), but an unusually well made custard with my apple and blackberry crumble also showed skill. The main dining is particularly cosy, and the experience most civilised.
I enjoyed a very good meal this week at the Brilliant, of which the highlight was a special: Amritsar fish. This is essentially a variant on tandoori fish, but in this case the tilapia pieces are marinated with yoghurt as well as spices. The effect is very moist pieces of fish, suffused with spices, and a superb flavour.
I popped in for lunch at Amaya after visiting the Restaurant Show, which was mainly aimed at the catering trade rather than foodies. Richard Corrigan did manage a short cooking demonstration when I was there, albeit after turning up half an hour late after what was explained was a pretty heavy night (Corrigan's Mayfair had won the highest new entry at the Restaurant Awards the night before in what is something of a surreal list). At Amaya I just had a chicken biriani (pictured), which was a meal in itself. This was very skilfully cooked, and the second time in a row I have been impressed with the food here. Prices at lunch are a lot more accommodating than those in the evening, and certainly the best dishes here are very well made indeed.
The Greenhouse was on particularly good form this week. For the detailed menu see the review, but I was really impressed with a particularly smooth and perfectly cooked slice of warm foie gras, and simply the best grouse I have eaten. Antonin Bonnet trained under Michel Bras and Marco Pierre White, and his fine technique came through in the meal this evening. The ingredients used here are of very high quality. An example is the cheese from Bernard Antony, whose Comte is his best-known cheese. Most Comte is aged for three years or less, and even those restaurants who Mr Antony chooses to supply are generally graced only with the two or possibly three year old Comte, yet the Greenhouse is allowed the superb four year old version (possibly reflecting the passion of the waiter who is responsible for the cheese here, who apparently spent some of his valuable holiday visiting Mr Antony's Alsace premises).
I also managed a quick Indonesian meal on a short trip to Amsterdam. Much of my time in the Netherlands was spent in The Hague, and I am less familiar with the Amsterdam restaurant scene than I would like. My choice of Blue Pepper has some very positive reviews, but tasted to me decent Indonesian food rather than anything special, and at a high price. If anyone knows of a really superb Indonesian restaurant in Amsterdam then do let me know.
Eight over Eight had a major fire this week. It is remarkable how common fires are in London restaurants. Pied a Terre burnt down several years ago, Benares had a more minor fire just days ago, and I was actually a witness to a fire in the kitchen in the ill-fated and unlamented 179 in Shaftesbury Avenue (luckily the foam suppression system went into operation, though it was tough luck if you food hadn't arrived and you wanted something other than foam on toast). Hopefully they are well insured.
A new 2010 Michelin Guide to Japan came out yesterday. This was a particularly interesting one since it marks the expansion of coverage in Japan to Kyoto and Osaka (the previous two years saw Tokyo only). As might be expected for a city with a rich culinary heritage, Kyoto was well rewarded in the new guide, with three stars given to Kikunoi Honten, Kiccho Arashiyama, Chihana, Tsuruya, Hyotei and Mizai. In Osaka, Hajime was given three stars. The Tokyo guide comes out separately a little later (November 20th). In all, Kyoto was given a hefty 110 Michelin stars amongst 85 restaurants (with a dozen two star places, plus a ryokan, a new category for Michelin), Osaka a total of 79 stars (with twelve two star places). By comparison Paris has a total of 99 stars, New York 71 and London 47.