The Queen of the Adriatic
Saturday, December 20th , 2014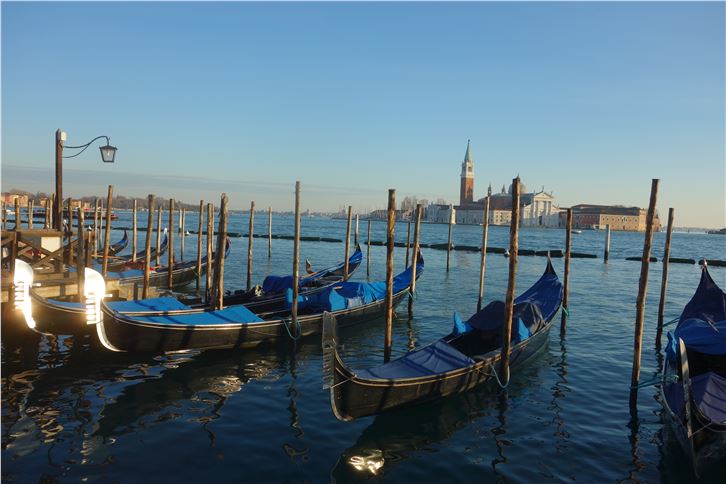 Venice is hard to beat for architectural splendour, and it is rather fun to get off your airplane and be taken to your hotel by boat. At this time of year there can be mist and even some flooding to cope with, but this means that the city is blissfully empty of tourists. The city is a marvel of engineering, and for the artistically inclined it is impressive to wander into a building like the Scuole di Grande San Rocco, its walls and ceilings covered in works by Tintoretto. Just wandering around the labyrinth of tiny streets is fascinating, and as a tourist there is an overwhelming choice of beautiful buildings to admire.
Da Ivo is a small, simple restaurant with a celebrity following and a price list to match, whose charms somewhat eluded me. A stuffed courgette flower and spaghetti with langoustines were decent enough, but the bill was absurdly high even by the challenging standards of Venice, where a coffee in St Mark's Square costs €8. If you are the sort of diner that wants to eat in a restaurant where George Clooney ate on the night before he got married then this is the place for you, but otherwise you can do better elsewhere.
Following further in the recent footsteps of Mr Clooney, you could stay at the quite new Aman Hotel on the Grand Canal. This boutique hotel is set in a stunning 16th century building, and has a small restaurant all of its own. The consultant chef that works here part time has a Michelin star for his restaurant in the countryside, but the food here is quite simple, despite the very grand setting of the dining room. The dinner that we tried was pleasant enough, and was actually not as expensive as I had expected given the posh hotel setting.
Osteria Alla Testiere was the best of the non-Michelin starred meals that we ate. This is a well-established seafood restaurant, its menu based on the catch of the day at the local market. A tiny place, the dishes that we tried here were straightforward but enjoyable, and they managed a particularly good tiramisu. This place felt authentic, and was popular enough to be turning walk-in diners away for lunch.
Il Ridotto has a Michelin star, currently one of four in the city with this accolade. It has recently expanded from its previously tiny dining room, but was rather hit and miss in terms of the food that we tried. Service was friendly but one dish arrived lukewarm and had to be sent back to be reheated, which really should not happen in a restaurant at this level. Even ignoring this issue, the food was pleasant but not obviously star-worthy.
Quadri provided by a wide margin the best meal of the trip. Overlooking St Mark's Square, this is the sister restaurant of three star Le Calandre. The setting overlooking the famous piazza is hard to beat, and the meal that we had included some genuinely impressive dishes, such as stunning fried langoustines and superb seafood risotto. The panettone (made at Le Calandre) served here is by a wide margin the best I have ever tasted, so good that we brought several back with us in our suitcase. Just as with our last meal here, thie food seemed more two star level than one, and although it is certainly not a cheap experience at least at this place you feel you are getting something pretty special for your money.