Fine Dining in London
Saturday, February 04th , 2017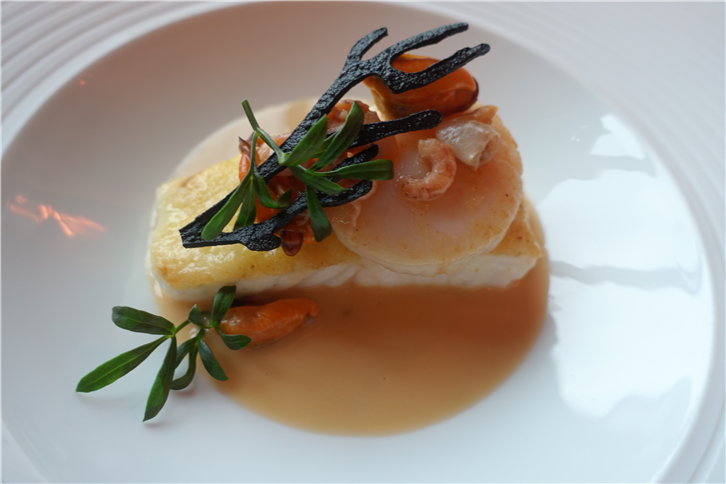 The Square changed ownership in March 2016, and finally has a new head chef in the form of Yu Sugimoto, who was head chef of Le Meurice in Paris amongst his previous experiences. The style is different from Phil Howard's, but is quite ambitious. Some dishes were very impressive, such as perfectly cooked sea bass with crisp skin and scales. Indeed most of the savoury dishes worked well, though dessert was more challenging. However prices seem to have nudged up, so value for money is a consideration, as it so often is with high end restaurants in London.
Ormer Mayfair is the London outpost of Michelin-starred Ormer on Jersey. As a basement dining room in a hotel this place lacks much in the way of buzzing atmosphere, but more than makes up for that in the standard of the food that emerges from the kitchen. A lobster ravioli was top-drawer, as was a tiramisu pre-dessert, and there were no technical issues throughout the meal. The menu was appealing and the staff friendly. I am puzzled by the virtual invisibility of this restaurant on social media. If this food was served in a trendy restaurant in a bare-brick room in Old Street by tattooed waiters then it would be the talk of the town.
The Ritz is one of my regular haunts, its vast kitchen having the resources to produce elaborate and labour-intensive dishes. The dining room is glorious, all pink and mirrored, its brigade of waiters carefully drilled, the menu appealing. At the meal this week there was a dazzling dish of agnolotti pasta with black truffles as well as excellent turbot (pictured) and fine langoustines and Anjou pigeon. As ever, the pastry section did not let the side down, with lovely poached rhubarb tart and also apple tart tatin. The technical skill in The Ritz kitchen is considerable, and although the wine list is expensive the food is pretty reasonablely priced given the quality.