A visit to San Diego
Saturday, October 30th , 2010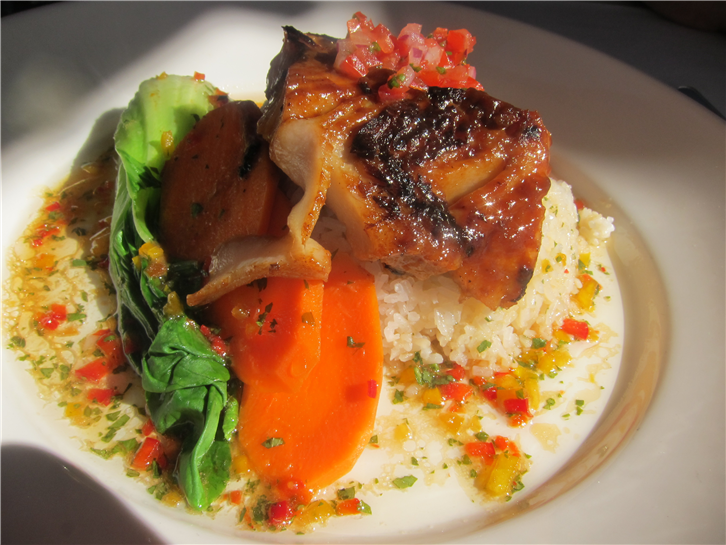 This week I was in a San Diego, always a city that presents a challenge to the visitor who is interested in food. The sixth biggest city in America, with over a million inhabitants, is known for its fabulous climate: it is almost on the border with Mexico, and due to its location on the coast rarely gets very hot, with average temperatures from 65F in January to 77F in August. It is the home of the US Pacific fleet, so if you are staying in a hotel near the harbour it is common to see an aircraft carrier steaming past (one, the USS Midway, is a floating museum that you can visit). San Diego's climate makes it a popular place for conventions - oddly, places like North Dakota never seem to be as popular for conferences as Florida, San Diego and Las Vegas. While famous for its zoo and wildlife park, this reputation sadly does not extend to restaurants. The best I have found over many visits to the city is WineSellars & Brasserie, tucked away in a suburb above a wine shop. Its new chef seems to have things under control, and the wine list here is superb.
Beyond that things get trickier. An outpost of the expanding Roy's empire was pleasant enough, and it is always nice to be sitting out in late October in the sun looking out over the water. Its seafood dishes (one is pictured) were competent. Rama is a Thai restaurant with some rave reviews ion the local press, but was in reality very ordinary indeed. This at least was far better than La Fiesta, a gruesome Mexican restaurant. San Diego should have access to very good produce, as it is on the coast and can take advantage of the agriculture of California, which produces half of the total production of vegetables, fruits and nuts of the USA, yet finding a decent place to eat remains a real challenge here.
The Three Tuns in Henley has been running for six months, though in a pub building that dates back 700 years. Chef Simon Bonwick is a talented cook who displays a genuine passion for food, and the meal that we ate, while it was a little uneven, included some genuinely good dishes, such as a polenta starter and excellent lemon mousse. The menu is short and the prices are very fair indeed, especially in comparison to some of the ambitiously priced cooking in this part of the world. It deserves to do well.
The Princess Victoria is a superior gastropub where the food is a lot better than one might expect, combined with a terrific wine list that goes far beyond anything that one might expect in a pub. For example Didier Dagenau Silex 2006 was £84 on the list, which is exactly what its retail price is (sorry – I drank the last bottle). This place always seems busy these days, which is a tribute to the cooking in what is not an obviously promising location.
The Michelin Guide to San Francisco came out this week. Through their Twitter account there had been a strong hint that a restaurant in the Bay area was going to be promoted in the 2011 guide. I had assumed it would be David Kinch's Manresa, but in fact was the less well known Meadowood, whose chef Christopher Kostow (originally from Chicago) has been at the restaurant since February 2008, and is just 34 years old. The remaining US guide is the new guide to Chicago, which comes out in November (spoiler alert: I'll take a wild stab in the dark that Alinea will get three stars).
In other news, it seems that Angela Hartnett has bought out the ownership of Murano from Gordon Ramsay Holdings, another well-known chef to leave the Ramsay mothership (Jason Atherton having left Maze some months ago).
I popped up briefly on "Masterchef: The Professionals" on BBC2 this week (the iPlayer version will be here for a few more days; I turn up at minute 51 of this episode). I just happened to be dining at Whatley Manor when the film crew arrived with two of the semi-finalists in tow, so I had another chance to eat a dish made by promising young chef Alice Churchill, whose food I enjoyed at the quarter final stage when I was judging.