A Taste of West Africa in St James
Saturday, March 24th , 2018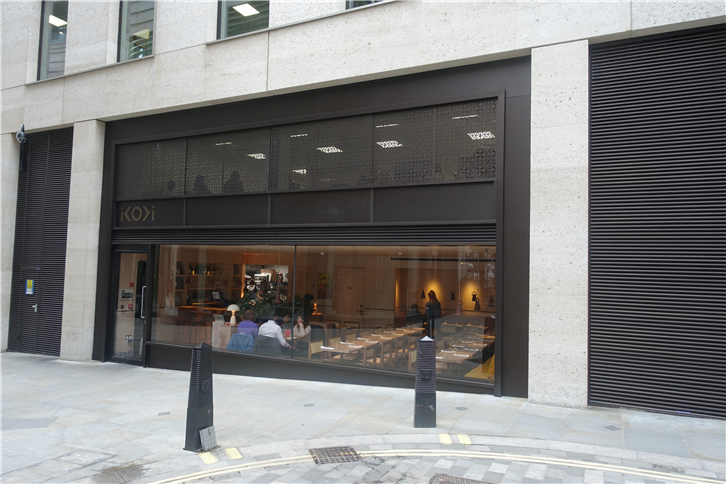 Andrew Wong seems to be single-handedly raising the bar for Chinese food in London, reinventing classic dishes and developing them with new touches. His dim sum selection is particularly enjoyable, with the nice feature that you can order individual pieces, so no need to fight over who is going to have the remaining har gau. Highlights of my meal this week included superb xiao long bao with an exceptionally thin and delicate dumpling, scallop puffs and excellent sui mai. This is a restaurant that thoroughly deserves its Michelin star.
Ikoyi (pictured) is an intriguing restaurant that takes inspiration from the cuisine of West Africa, though it does not pretend to be "authentic", whatever that really means in cuisine. It applies some West African ingredients like African nutmeg to luxury ingredients such as scallops and turbot, resulting in some intriguing and enjoyable dishes. Crab jollof rice was a delight, octopus with a Cameroonian stew called ndole was excellent and it was clear that a great deal of effort had gone into some of the dishes, often involving elaborate preparation. The staff that I spoke to were clearly enthusiastic about working here, and although this is not a cheap experience, the prices seem to me justified by the high grade ingredients and amount of work involved in the food.
Moksha is a fairly new Indian restaurant in New Malden. Its cooking is more ambitious than one might expect from the high street location, with dishes such as Parsi sea bass and green chutney in banana leaf and prawn biryani with a pastry lid. An excellent achari murgh had a particularly well judged marinade and a black dhal was very good. The service was attentive and if I lived nearby I would certainly return on a regular basis. Now all I need to do is to persuade them or another enterprising Indian restaurant to open in Chiswick, an area sadly lacking in good Indian food.