Greek Gifts
Saturday, June 17th , 2017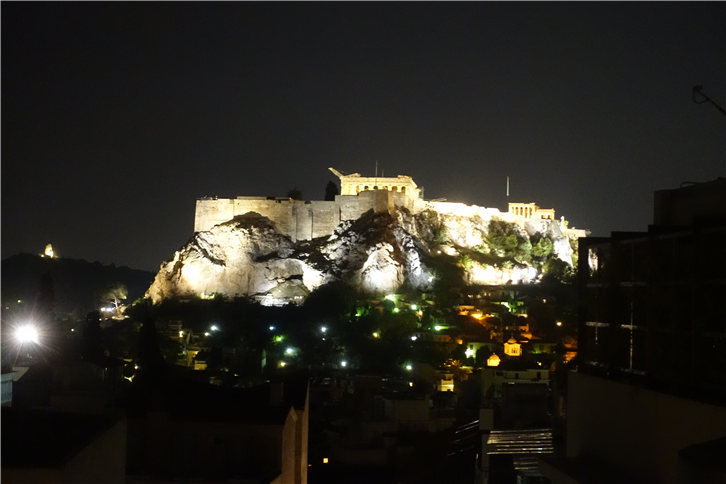 After last week, which covered the pair of two star Athens restaurants, I continue my exploration of the Athens high end-dining scene with the three restaurants that currently get a single Michelin star in the city, and a flaky little trio they are. Hytra has a spectacular rooftop setting on top of the Onassis Arts Centre, and serves generally quite capable if not especially ambitious, food. There is an open-air terrace with a roof that can be brought across if need be, and from here you get a decent view of the Acropolis (pictured) in the far distance. It was reasonable, but the setting is a significant part of the attraction.
Botriini's is out in the suburbs, and had some quite good cooking but distinctly ropey service. It also featured a disappearing wine list where every wine that I tried to order was absent. Reading between the lines it seemed to be struggling, and had worryingly few diners on what should be one of the two busiest nights of the week. This is a shame as the kitchen operation seemed to be functioning quite well.
Varoulko has a lovely seaside setting and delivered a very erratic meal, but with truly Fawlty Towers service levels. This was the dodgiest meal of our stay in Athens, and is all the more annoying because the produce that they have access to is good. An amberjack dish that we tried was fine, but the service was some of the worst I can recall in a restaurant of any level, anywhere. Some people that I trust like this plaice, and perhaps on another day it can be decent, but without meaning to carp, it seemed distinctly fishy to me.
On the other hand I was pleased to a restaurant shunned by Michelin but which offered a meal worthy of a star, and was certainly no worse than any of the current trio with this accolade. Aleria has an attractive setting with smart rooms and an outside courtyard, charming staff and an interesting modern take on classic Greek dishes. Unlike Botrini's, it was packed out, and understandably so.
In summary, both two star restaurants in Athens (Spondi and Funky Gourmet) are good and worth a visit. I would hesitate to recommend any of the current one star places based on my visits but would happily return to both CTC and Aleria, which Michelin has overlooked. You should also not miss the excellent delicatessen Matsoukas, which sells lovely baklava and has a fine array of produce, such as top class pistachios from the island of Aegina.