This week features a return to Arpege in Paris
Saturday, March 03rd , 2012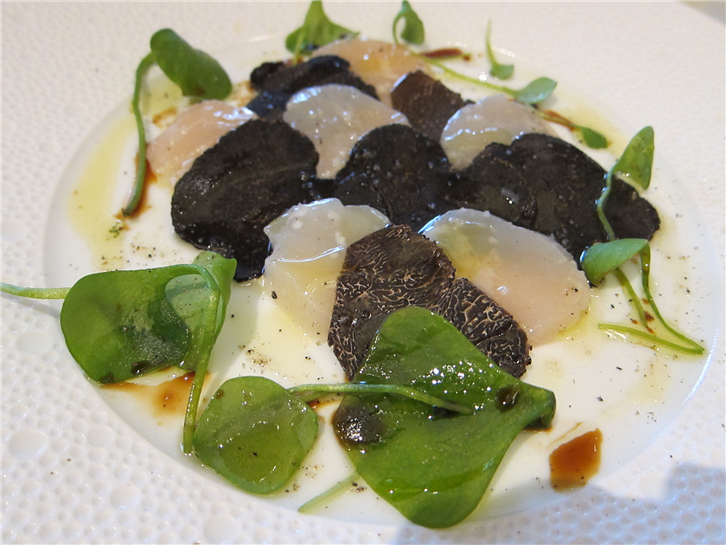 C London is what Cipriani is now called (due to a legal naming dispute) but its format is the same: Italian food, stratospheric prices. The room is appealing and there are plenty of attentive waiters, but while the dishes I tried were ordinary the prices were anything but. This restaurant is costlier than the Michelin-starred Italian places in London, presumably designed to repel any customers for whom value for money is remotely an issue. I'll stick to Apsleys and Zafferano.

Delaunay, the sister to the Wolseley, has a slightly different food slant from its elder sibling. As well as bistro food there are numerous central European dishes, such as schnitzel and strudel. The room is attractive and the menu lengthy and appealing. One interesting aspect was that wine prices were not especially egregious by central London standards, and so although this is not earth-shattering cooking it felt a lot less rapaciously priced than some recent Mayfair openings.

On my second visit to the newly re-opened Royal China the cooking was as reliable as ever. This week I was impressed by a simple dish of pea shoots with garlic: the cooking was spot on, the texture and flavour of the pea shoots lovely, the seasoning accurate. Royal China does a very good job with vegetarian dishes (I love their gai lan), and I think it is somehow more impressive to make a simple vegetable dish really exciting than to produce a similar dish using a luxurious ingredient. Service was unusually attentive and friendly on the evening of my visit.

I also fitted in a revisit to Arpege in Paris this week. I won't repeat the review here, but it was just as good as I remember. I can imagine some people finding Arpege not quite as they expect for a Paris three star: the room and tables are small and the dishes are simple to a surprising extent. The point is that cooking is stripped back to its bare essentials, without any extraneous garnishes, and based on superb ingredients throughout. Alain Passard still has an emphasis on vegetables, sourcing them from several dedicated farms and gardens, and the flavour he manages to produce from his produce is striking. An example of the simple approach taken was a dish of scallop carpaccio (pictured) with utterly superb scallops, just served with discs of truffles, olive oil and a few leaves. The quality of the scallops and truffles was so high that the dish didn't need further embellishment. Arpege is certainly not a cheap place, but the gulf in standard between it and what passes for three star cooking in lots of places (such as London) is considerable.

The final Michelin country guide for 2012 came out this week, that of France (the only remaining guide this year is the Main Cities of Europe, which picks up countries not covered by the country guides, such as Scandinavia and Eastern Europe). There is one new three star, Flocons de Sel in the Alps, and no deletions at the three star level. There were a couple of deletions at the two star level, and ten new two star places. The biggest change was at the one star level, which saw a large increase. In France there are now 630 one star places, including no less than 124 new starred establishments. The full list of 3 star places is here and the map of their locations is here.