Braving the Hipsters
Saturday, March 17th , 2018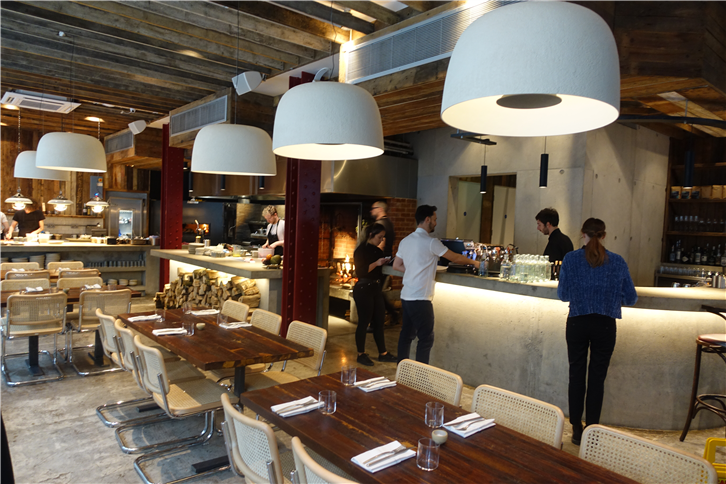 This week I try two of London's trendiest restaurants, with no shortage of people with beards and tattoos in attendance. Londrino is a much anticipated Portuguese restaurant from a chef who was formerly head chef of Michelin-starred Viajante, and who has worked in several other starred establishments. It ticks all the hipster boxes with the open kitchen, the casual dining room and the "small plates" format. It also featured some particularly nice front of house staff, who were very charming. The food itself was merely pleasant, and there was a recurring theme of favours being muted and seasoning being subtle to the point of invisibility. There were some nice dishes, such as prawns with mustard sauce and a good dessert, but there were also some pretty ordinary dishes, all at an unforgiving price point.
Nuala's chef/owner was formerly a butcher, so it is not surprising that the Highland rump steak that we tried here was of excellent quality. What was impressive was how many other things were good, from the crusty sourdough bread, the sweetbreads and cauliflower and the chocolate dessert. As a bonus, there is the odd bargain on the wine list too. Old Street is groaning with disappointing restaurants, so Nuala was a very pleasant surprise.
Indian Accent is the only restaurant from India that makes it into the global "Top 50" (which is really a top 100) list. I ate in December at the original branch in Delhi and what impressed me about the London opening was just how similar it was in standard. Often when a successful restaurant opens another branch some of the magic of the original is lost, but not here. Dishes such as Kashmiri morels with Parmesan crisp, glorious soy keema and fabulous bacon kulcha bread were highlights of my latest meal here. Service is slick and the premises smart. 2016 was a great year for Indian restaurant openings, with Jamavar and Dastaan, but Indian Accent tops them all. This is, quite simply, the best Indian restaurant in London.
In other news, Michelin released a guide to taipei in Taiwan, another in the series of Asian guides funded by the local tourist authorty. There was a solitary three star restaurant (Le Palais), a pair of two stars (Ryugin and "The Guest House") and 16 one star places.