The Michelin results considered
Saturday, February 10th , 2007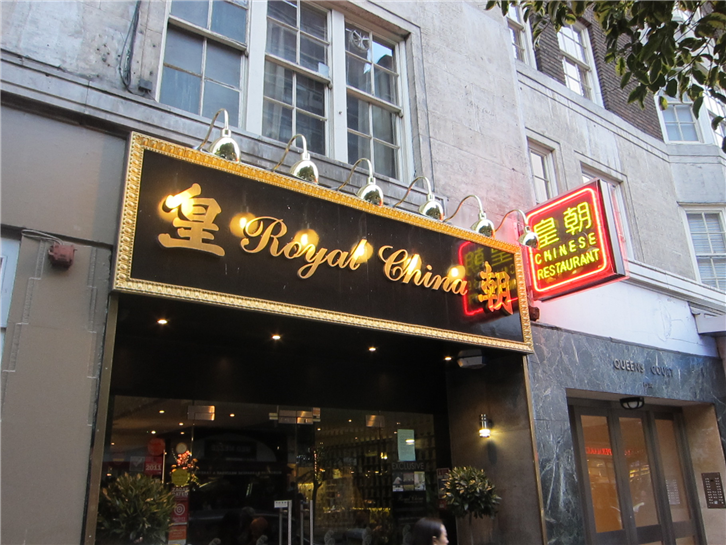 This blog was harder than usual to write, not for any writers-block kind of reasons but because there were two power cuts in the middle of my typing it. I managed two weeks around India without a power cut, and get two in one morning in London. I am sure these were entirely unconnected with the gang of sheepish looking men in donkey jackets digging up the road outside.
Anyway, after two weeks of curry even I craved something a little more plain, so the High Road Brasserie was just the ticket. Scampi had good langoustine filling, lightly battered and served with a tangy tartare sauce. Duck is delicious here, cooked pink and served on a bed of delicate spinach and excellent rosti (which is very easy to screw up). A dose of apple crumble was the ideal way to recalibrate my sense of taste after two weeks of spice bombardment.
Royal China in Queensway is comforting in another way - it is a bastion of reliability in a fashion-conscious culinary world. From the moment you walk in and see the disco era decor (featured in the movie Sexy Beast and unchanged since then) you know this is not a place that troubles itself with fads. Hot and sour soup is a complex, spicy broth that is much more interesting that the crude concoctions that often go under the name. Cantonese style char sui pork was tender, and prawns with cashewnuts were also excellent. In some ways though I think the best dish here is the simple gai lan (Chinese asparagus) steamed in garlic, which is stunningly fresh, tender and light. This is as good a treatment of vegetables as you could hope for in a Michelin starred establishment.
Talking of which, the Michelin country guides have been coming out in their dribs and drabs, and just France is left, due end February. Comme Chez Soi in Brussels lost a star, and I am still baffled about the same fate occurring to the excellent Im Schiffchen in Germany. Akelarre in Spain now has three stars for reasons that elude me, while otherwise things have been unchanged at the three star level around Europe, other than Parkheuvel in Rotterdam down to one star with a chef change. Obviously, we await France with interest; Francois Simon's predictions in Le Figaro are for quite a few changes, but I'll refrain from commenting on speculation. Ferme de mon Pere has closed, but that is the only thing for certain as yet.
The UK had a pretty good year, with 122 Michelin starred places now in the country, the most so far. Congratulations to the Vineyard in Newbury for its second star. I was a bit surprised about the second star for Petrus, as I haven't detected any change in cooking standards there recenrly; I actually felt the cooking had the edge in the old St James street premises. Noisette gained a star, which seemed a little kind based on my meal there though unsurprising given the chef's track record. As for the star for Benares, this was hardly a surprise given that the chef used to be at Tamarind, but why on earth a star here and not, say, at Deya or Mint Leaf (or even Haandi, assuming Michelin really don't care about decor). Arbutus was a surprise starred addition to me; maybe I had an off-night when I went but it seemed merely pleasant on my visit.