The Phoenix Palace rises from the ashes
Friday, September 14th , 2007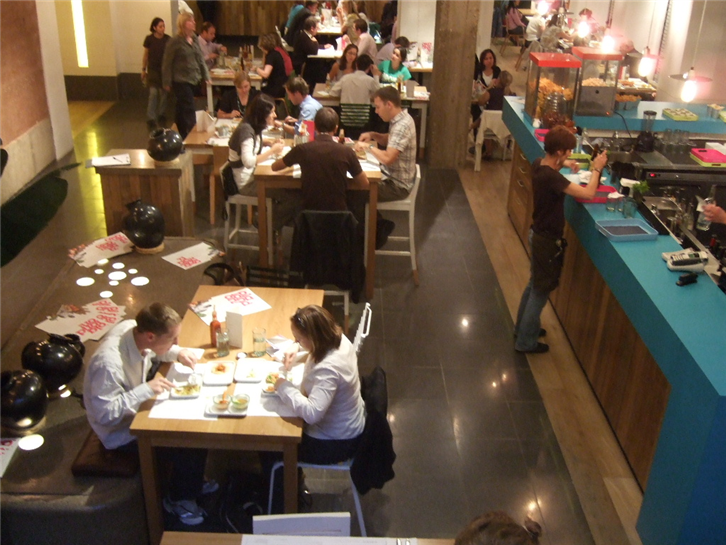 Phoenix Palace is a large, bustling place near Baker Street which serves very capable Cantonese food from a vast menu. Steamed sea bass was filleted at the table and was cooked with a little ginger and chilli, while Szechuan prawns were tender though surprisingly lacking in chilli punch. Bak choy was lightly steamed and tasty. Cooking technique was good though there was rather a lack of bite to the dishes, as if they were going easy on the spices for the benefit of the mostly western clientele. Even some chilli sauce I asked for was mild! This was a pleasant meal, though Royal China down the road in Baker Street has the edge.
La Trompette delivered another enjoyable meal, with excellent seared tuna salad with oriental dressing, followed by breast and leg of poulet noir. The only blemish was slightly heavy gnocchi served with the chicken. Sorbet of lime and tequila was a refreshing way to end the meal, and we had a lovely Donhoff Riesling from the tremendous wine list. I like the home-bread here (olive or walnut and raisin) and service is always smooth.
My weekly curry was at the Brilliant in Southall this week, and was as reliable as ever. Bhajia mix has vegetable patties laced with spices and deep fried, served with excellent tamarind sauce. Methi chicken has a wonderful sauce that tastes of fenugreek amongst a complex mix of spices, and aloo chollay has tender chickpeas in a rich blend of spices. I am so pleased that they now make proper romali roti (pictured), which is my favourite Indian bread, and is as light as one could wish.
Wahaca (a dumbed-down phonetic spelling of Oaxaca) is a bright, airy basement (pictured) in Covent Garden that makes all sorts of claims about authenticity and careful ingredient sourcing, yet managed to produce food that tastes exactly like any other dismal London Tex Mex. Even the salsa was tasteless, which is a criminal when I think back to some of the salsas I have eaten in Mexican restaurants in the US. What I don't understand is that good salsa is so easy to make, so what are they doing here? Ingredients were very basic indeed and the whole experience was one of disappointment; the rave review in the Evening Standard that led me here is entirely baffling to me. Still, with her own Channel 4 series coming out soon, owner Tomasina Miers ("the new Nigella" was one breathless journalist description) will no doubt prosper, and the place was packed with a young crowd who seemed remarkably undeterred by the dull food. Anyone out there want to open a real Mexican restaurant in London? Anyone?
I had an unusual all-rice menu at a function arranged by Italian food supplier San Lorenzo at Osteria dell' Arancio in Chelsea. The idea here was to showcase varieties of Italian rice. We are used to Arborio rice in the UK, but here we tried arancini, risotto, rice pie and rice pudding made with three different types of Italian rice: carnaroli, vialone nana and venere. Both the classic Carnaroli (from Piedmont) and vialone nano (nano means "dwarf") rice from Mantua made excellent risotto, and opinion was somewhat divided as to which was better. I had a slight personal preference for the carnaroli but it was very close. I was most intrigued by venere, a black rice I had not tasted before. It had a slightly nutty taste reminiscent of wild rice, and was very enjoyable.
The 2008 Good Food is now published. This is the only guide other than Michelin that uses anonymous inspectors and which takes no money from restaurants, either indirectly in the form of advertising (Time Out) or in fees (AA Guide - £800 for a hotel entry). Hence the reviews are at least honest. The Guide has a bright new look this year thanks to Caroline Blake, and has various brief chef interviews and useful lists (e.g. places for breakfast). It is a pity that the indexes have largely disappeared (Hardens wins hands down here) and the new grouping of entries by county seems to me very sensible for most of the UK but is awkward when extended to London. New editor Elizabeth Carter has also introduced a "top 40" list of UK restaurants. I am not fond of such lists, which are immensely difficult to do well, but will no doubt generate some column inches since journalists love lists. Proof-reading seems to have gone astray in places e.g. Gidleigh Park (8/10) is listed below a 7/10 entry in the Top 40, which makes no sense to me. Also a few restaurants (e.g. 1 Lombard Street) seem to have disappeared altogether, implying either an implausible drop in cooking standards or some careless editing. Still, overall this is the UK's most reliable restaurant Guide, and you should buy a copy this week.
I don't know if you ever saw a TV series with macho cook Antony Bourdain travelling to far flung parts of the world eating exotic food (still beating cobra heart, that sort of thing)? In this he ventured to some really dangerous and remote areas far from civilisation. In this spirit, this weekend I am going to Norwich. Hopefully I will live to tell the tale next week.
Finally, don't forget to watch "Grandad's Back in Business" this Monday at 9 p.m. on BBC2, where two trainee chefs battle it out for a job at Pied a Terre, and as part of this duel have to cook for a restaurant critic (me).