An app for wine lovers is born
Saturday, February 19th , 2011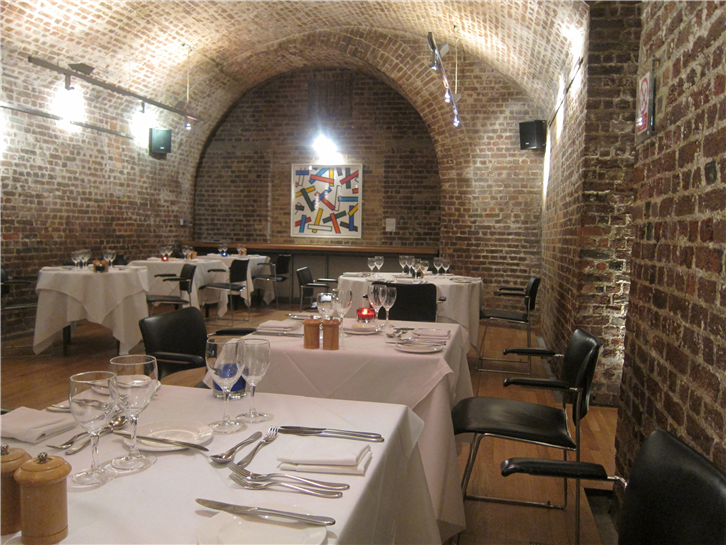 El Pirata Detapas serves Spanish tapas dishes in Westbourne Grove (there is a sister restaurant in Mayfair). All the staff we encountered were Spanish, and the dishes were generally capably cooked, with a mostly classic menu. Attention to detail could be seen in the selection and preparation of the very high quality pata negra, while the mostly high standard was marred only by a couple of dishes that were a little overcooked.

The Seashell is a fish and chip shop in Marylebone with a restaurant attached that has re-opened fairly recently after a fire; unfortunately the food we had at this meal was deeply disappointing, in particular some remarkably bad chips. There seemed to be some attempt to source decent fish in part, with a nice halibut easily the best dish tried, yet some of the other fish sampled were very disappointing. All this hardly came cheap either.

The Vaults (see picture) at the RSA is tucked away in restored basement area that used to be a river-front warehouse, and is now open to the public for weekday lunch. The venue sounds exotic but to my mind they have not made the most of the space, so it feels like eating in an underground warehouse. The menu is modern British and lunch that I had was not actually bad but just uninteresting, with a consistent lack of seasoning, and the price is higher than the lunch menus at several Michelin starred London restaurants, so I am not sure if they really expect to attract much business from non-members.

Mandalay is a pleasant enough café in the Edgware Road serving Burmese food, which is a real rarity in London (think a sort of mix of Chinese and Indian). It is inexpensive and had friendly staff, though the food was really only adequate, though if I was passing by the place again I would be happy enough to return.

Zaika is a stalwart of the London high end Indian dining scene, indeed the first Indian restaurant in London to gain a Michelin star in its old Fulham Road location. These days there is a certain amount of unevenness in the cooking, but with the best dishes very good indeed, and an interesting menu.

Regular readers will know that I am a big fan of the pizzas at Franco Manca, which opened in Brixton market but is now also in Chiswick. It seems as if business must be good, as they are planning to expand significantly, with three new venues planned for this year in Covent Garden, Brick Lane and Westfield Stratford. Hopefully the same high standards will be maintained, and as pizza is a pretty standardised menu offering this would seem to me to have more chance of being successfully replicated than many menu formats.

On a different note, I have been developing what I hope is a useful mobile phone app for diners. I am often in a restaurant and unsure what the level of mark-up of the wines is set at. If the mark-up appears harsh then I usually order a cheap wine, if it is modest I will often order a better wine; and sometimes there are hidden bargains on otherwise pricy wine lists. But to make this decision you have to know what the retail price of the wine is, and few of us carry around this knowledge in our heads.

Help is at hand. The WineSearch app, available at present only for the Apple family (iPhone, iTouch, iPad) allows you to type in the name of a wine and returns to you the average retail price (and the range of prices that are found in a retail store). If you type in the list price on the restaurant wine list it calculates the mark-up for you, both with and without the service charge. The app also tells you the main grape variety and the region of the wine.

If you know a vintage then type it in, otherwise the app brings you back a list of the vintages for which it has prices. The prices come from the well-respected database Winesearcher (you will need a 3G or wireless connection, by the way). For sommeliers, it conveniently calculates the gross profit of the wine. You could also use the app when in a wine shop to get a sense of the range of retail prices elsewhere. The app can be seen in more detail and dowloaded from the iTunes store here.

Feel confident when ordering wine, now that you know the level of mark-up. I hope this is useful to you. In a small way, I hope that it encourages greater transparency in restaurant wine pricing, prodding restaurants to price fairly, which in turn should encourage diners to order better wine and enjoy their overall experience more.

In other news, Santi Santamaria, chef of Can Fabes and the first chef in Catalonia to gain 3 Michelin stars, sadly died this week at the untimely age of 53. An obituary is here.