Over Hill and Down Dale - A Yorkshire Road Trip
Saturday, July 19th , 2014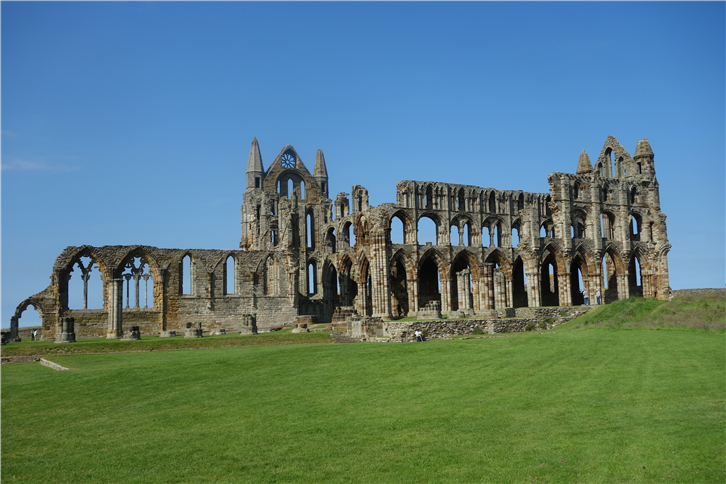 Whitby is the port where, according to the original Bram Stoker novel, Dracula landed in Britain. It is also noted for its ruined abbey (pictured) and also its fish and chips, and I was intrigued to try both the famous Magpie Cafe and also Quayside, last year's UK best fish and chip shop winner. Of these I preferred Quayside, which was very good. Magpie was fine, but it didn't feel like anything special to be honest. Just to prove that you can get mediocre fish and chips even in north Yorkshire, I also visited another supposedly well-thought-of place called Inghams in Filey. The best fish and chips I can recall eating are still those of Simon Hopkinson when he was cooking at Bibendum, but the food at Quayside in particular was very enjoyable.
Moving up a culinary gear, I tried four of the five Michelin-starred restaurants in Yorkshire. The Old Vicarage near Sheffield is in a pretty location and was quite old-fashioned but served some perfectly enjoyable food. Its service, however, was almost comically inept. Not far from the attractive town of Beverley is The Pipe and Glass Inn, which served the best food of the trip. This was very good indeed, with almost every dish solidly in good one star Michelin territory, and with relaxed and competent service.
The Box Tree at Ilkley has a great culinary heritage, having had a Michelin star in the very first UK Guide, back in 1974. The meal here was good, with a particularly nice rhubarb soufflé. The service was quite formal but very capable, the pricing rather ambitious. The Yorke Arms near Pately Bridge was more erratic, having several perfectly nice savoury dishes and then some frankly dodgy desserts.
Yorkshire has some beautiful countryside, both along the coast and also its rugged moors, and it is well worth a visit. However it is important that you research your dining options. When we stopped for simple lunches during the trip at pubs we encountered some pretty grim food. I suppose this is no different from anywhere else, and certainly is true in London - the vast majority of restaurants out there range from mediocre to gruesome, and only a very small percentage produce food that is genuinely good. This is as true of pretty country pubs as it is of city restaurants.