Bohemian Rhapsody
Saturday, May 03rd , 2014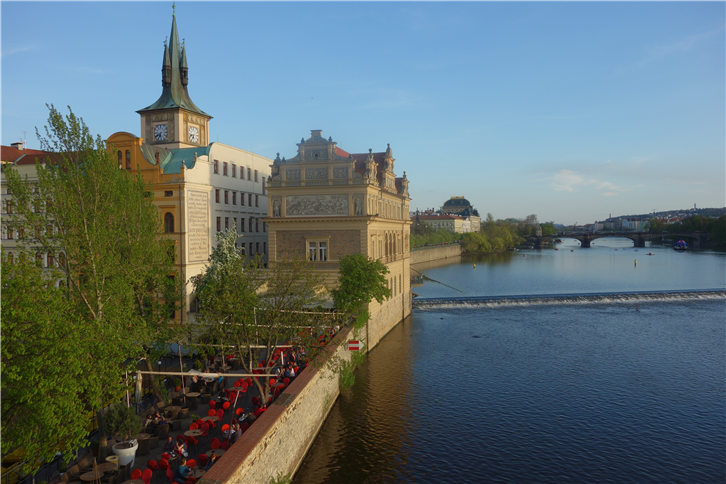 I have visited Prague twice before, once shortly after the Berlin Wall fell, and once again around a decade ago. It is a stunningly beautiful city, filled with glorious architecture. There are other lovely cities in the world: Venice, Krakow, Tallinn, Florence and Rome all have superb buildings, but for me Prague may be the prettiest of them all. It is a very walkable city, the gorgeous old town a stroll over the famous 14th century Charles Bridge up the hill to the castle, the largest standing ancient castle in the world, dating back to 870 AD. The city has an excellent metro and tram system and, more importantly, superb beer. Yet on my previous visits here it was tough to find even half-decent food, which seemed to consist mainly of meatballs and potato dumplings.
I was pleased to discover that things have moved on. The old style food can still be found, such as at Kastrol, and this was hearty enough and cheap, but there are only so many potato dumplings that a man can eat. A sign of the changing culinary times could be seen at Sansho, an Asian fusion restaurant run by an Englishman, where trendy dishes like soft shell crab sliders appear, the meat here supplied by the owner's own butcher shop. Finestra was a real surprise to me, an Italian restaurant with genuinely classy imported ingredients, such as superb tomatoes from Campania. They even have Fassone beef and three deliveries per week of fish from the Adriatic, plus a terrific wine list. The food here was lovely, and I would go back in a heartbeat.
At the smart end of dining there are two Michelin starred restaurants, Alcron and Degustation. Alcron has a very pretty little dining room illustrated by murals reproducing an art deco artist, and the slightly jewel box feel of the room extends to the food, which is very elaborate in style. For me it was a little too much so, never using three dish elements when six would do, even the amuse-bouche having a dizzying number of components. It was all pleasant enough, but seemed to me overworked. I preferred Degustation, a very modern restaurant in a more casual setting with an open kitchen, its innovative food based on good quality ingredients, the staff clearly enthusiastic. Overall things have definitely moved on, and with some very good restaurants it is now possible to live a truly Bohemian lifestyle in this lovely city.
In other news, the San Pellegrino Top restaurant list was published. As ever, I am pleased to see anything that encourages people to talk about top restaurants, and in particular there are some places covered that would otherwise not get much attention due to their location. Any list like this is problematic: no one can objectively say with certainty that a place that is at number 27 should really be at number 28; nothing in food is that precise.
Even given the constraints though, there are many flaws in the list. Japan has two entries in the top 50 (the smae as Singapore), and only three in the top 100, which is absurd. They didn't even get the right ones, as although I love Ryugin and also rate Ishikawa, I thought Narisawa was merely pleasant; there are better restaurants in Minato-ku, never mind Japan as a whole. Where is Mizai, or Kitcho, or Sushi Saito, to name just a few?
To bring it back closer to home, according to the list the best restaurant in England is Dinner (5), followed by The Ledbury (10), then Fat Duck (47) then St John (55), then Hedone (63), then Clove Club (87). Does a single person reading that sequence think: "oh yes, that makes perfect sense"? The Ledbury is a fine restaurant, as is Hedone, but Dinner is not the fifth best restaurant in London, never mind in the world, and how can it be ranked above the Fat Duck? It is similarly surreal when you move to France, which has just four top 50 entries: Mirazur (11), Arpege (25), Chateaubriand (27), Astrance (38). Hmm. So outside the top 100 entirely are Ledoyen, Guy Savoy, Ambroisie, … and that is just Paris. No top 100 listing either for Troisgros, Pic, Pres de l'Eugenie, the list goes on. So the list in the UK makes no sense, the list in France makes no sense, the list in Japan is laughable,... Hopefully it is clear by now that if each of the country sequences is palpably riddled with omissions and errors, then plastering these flawed country lists together results in an even more absurd overall list. To compound things, those who vote seem to much prefer modernist food to classical, so there is no room for Hotel de Ville, Sonnora, Taillevent,....
Anyway, enough of this train of thought. For those deserving restaurants that appear, well done, but as a useful list of the world's best restaurants it just doesn't come close to working. Anyone who reckons Michelin has issues (which it does) should take a long hard look at what happens when you have a list that is not compiled by anonymous inspectors that pay their own bills, as Michelin, to their eternal credit, do.