A Trip to Paris
Saturday, February 23rd , 2019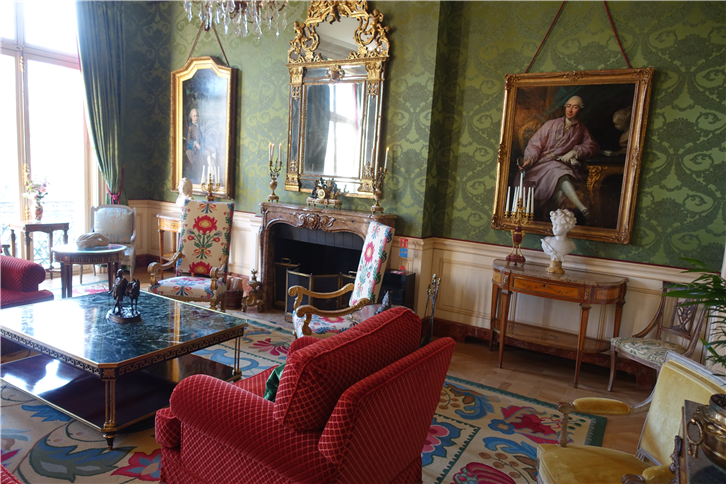 Akira is within the Japan cultural centre in Kensington, and is quite a large restaurant on the first floor of Japan House. It has a very broad menu serving all different kinds of Japanese food, from sushi to tempura, from rice dishes to ones from the robata grill. It is very smartly decorated and the dishes that we had were pleasant, including a very pretty bento box. However there were a couple of slips in the food, and the prices are very high, so this represents debatable value for money.
Le Clarence (its lounge is pictured) is a relatively new addition to the Paris fine dining scene, gaining two stars just months after it opened in late 2016. With the same ownership as Chateau Haut Brion, no money has been spared on making this Parisian town house into one of the top dining destinations in Paris. The cooking here showed real skill and a particularly fine sense of flavour balance, paired with high quality ingredients. The place is luxurious, the service is superb and the wine list is quite fairly priced, so there is a lot to like about Le Clarence.
The Scandinavia Michelin 2019 Guide came out. No change at the 3 star level. The new 2 stars were Noma in Copenhagen, KOKS in the Faeroes and Gastrologik in Stockholm. Norway now has one 3 star restaurant, no two stars and 7 one stars. Finland has now has no 3 star restaurant, no two stars and 6 one stars. Denmark now has one 3 star restaurant, 5 two stars and 22 one stars. Sweden now has one 3 star restaurant, 5 two stars and 16 one stars. Iceland lost its only starred restaurant, Dill, which was demoted.