A week in London including the fashionable opening Lima
Saturday, September 08th , 2012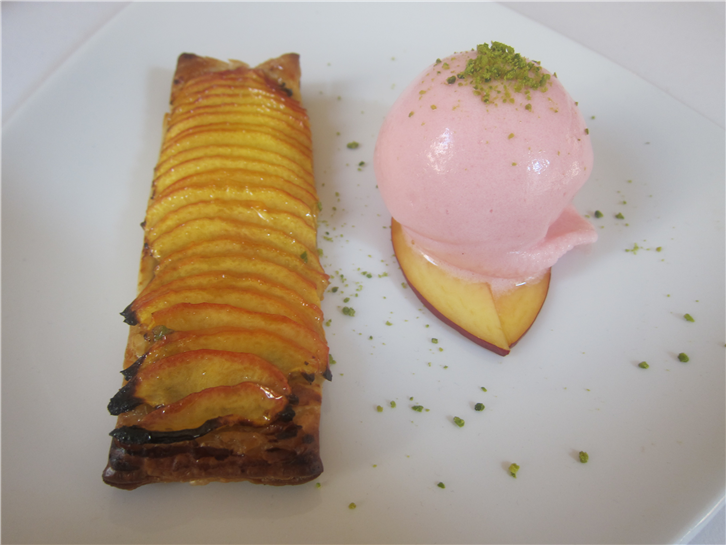 Soif, sister to Terroirs, is an enjoyable place. The cooking is simple and hearty, with steak tartare nicely seasoned, and a duck pastilla with couscous carefully cooked. This restaurant is just as much about the wine list as about the food, as one might expect from somewhere owned by a wine importer, and there are some genuine bargains on the list. Throw in friendly, efficient service and you have the recipe for a full restaurant, which this most certainly was on the evening that I visited.

NOPI delivered a very capable meal, Yotam Ottolenghi's series of cafes and delis and his high media profile allowing him a certain latitude in serving small portions with quite high prices. However the dishes were well made and this is clearly a very successful formula. A nectarine galette for dessert (pictured) was a particularly well made dish.

Lima London is one of the current clutch of London openings that produces food that seems tailor-made for the photos of food blogs: pretty food with bright colours and precise presentation. There is nothing wrong with that, but you also have to get the flavours right, and the meal that I ate had much inconsistency in that department e.g. chocolate with potatoes is a combination I will not be seeking out again anytime soon. Service was also a friendly shambles, which was all the more disappointing given that they had hired as a restaurant manager someone that should know better.

The Brilliant is one of the most reliable Punjabi restaurants in London, and has been a regular haunt of mine for two decades. Fish pakora was delicate this week, whilst an old favourite dish of methi chicken had strong, vibrant spicing. This is one of the very few restaurants in London that make romali roti, the ultra-thin bread that is tossed by the chef in the air and then cooked on a hot steel hempishere for a few seconds before being folded.

A number of interesting restaurant openings are due to hit London in the autumn. Hakkasan is opening not one but two new outlets, one a Japanese restaurant in partnership with the chef from top kaiseki restaurant Kikunoi in Kyoto. The other will be a Chinese restaurant, but one offering a wider variety of regional Chinese dishes than the normal Hakkasan formula. This chain of restaurants has an unusually sure touch, so it will be intriguing to see what is delivered. Other high profile openings on the horizon include the much-delayed Balthazar bistro, and a London opening from Bo Innovation, a high profile restaurant in Hong Kong, as well as Nathan Outlaw taking over the restaurant at the Capital Hotel in Basil Street. London appears to have two economies operating in parallel at present. In outer London things are tough for restaurants, illustrated for example by the recent closing by Malcolm John of Le Cassoulet and Fish and Grill and general rumblings in the trade from many sources; even Brick Lane, the home of the sub £10 all you can eat Bangladeshi buffet, seems to be struggling. By contrast central London continues to boom, with seemingly an endless appetite for high profile restaurants in Mayfair and the City.

This week Which Travel published an article rating the top food destinations of the world. The process was quite elaborate and involved scoring twenty candidate cities on a wide range of criteria, the scores from a panel of three judges (of which I was one) then debated for a full day and finally amalgamated. San Sebastian emerged at the top, followed by Tokyo and Sydney.
Since I will be travelling next weekend, the blog will be published one day later than usual.