A trip to Honfleur
Saturday, April 23rd , 2011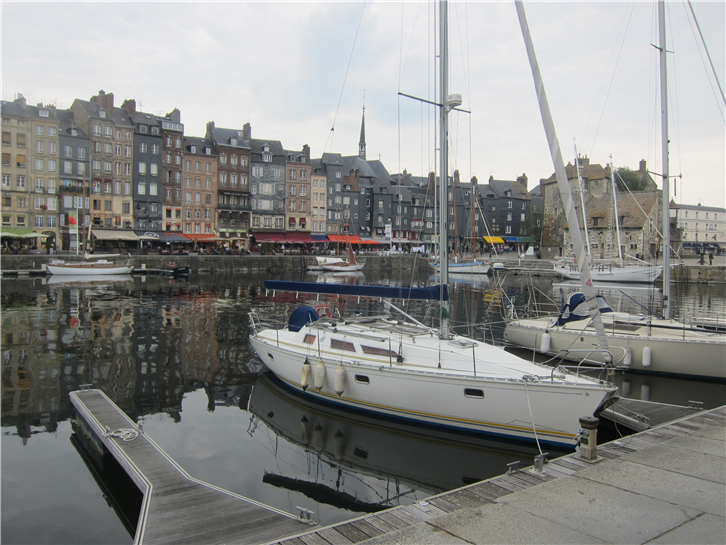 I had a rather bizarre trio of meals in and around Honfleur, the historic Normandy seaside port (pictured). The highlight without a doubt was a stunning meal at Sa Qua Na, which is one of the most promising restaurants in France (one Michelin star within months, two the following year, three next?). The modern cooking has purity of flavour as a recurring theme, and dish after dish featured dazzlingly fresh ingredients, beautifully executed. One dish, sea bream with quinoa, was one of the best fish dishes I have eaten.
However a meal at Michelin-starred Auberge de Vieux Logis, which serves a classical menu bordering on old-fashioned, was rather disappointing given the very substantial bill that we managed to run up (the latter not entirely the fault of the wine we drank). The food was decent enough, but with even the starters weighing in at around €40 apiece there is not much room for error here, and unfortunately there were some slips.
Moving way down the scale we had lunch at Le Breard in Honfleur, which has a bib gourmand in Michelin. I wasn't expecting anything remarkable but the meal we had was ghastly, from a chewy salmon madeleine, through grey tuna and ending in an utterly dismal soufflé. To add insult to injury the manageress insisted on lecturing us about how great the cooking was and how we clearly didn't understand this. At €45 for the set menu for lunch this may be some of the worst value for money I have encountered anywhere: at least at McDonalds they don't sternly tell you had great it all is.
Ye Olde Bell has a history going back to the 12th century, and has recently had a significant upgrade in the kitchen. The place is pretty with extensive gardens, and serves simple British, seasonal food. This was mostly well executed at my meal this week, and although there was a certain amount of inconsistency this is clearly a place that is trying hard and is a nice setting for a meal in the country.
I also had two enjoyable curries this week. Trishna specialises in seafood, and I had both a good seafood biryani and an excellent potato chat starter. They make their own desserts and prices are not excessive – somewhere I look forward to returning to. Diwana Bhel Poori is an old favourite, selling south Indian snacks in basic surroundings but at very low prices. I had plenty to eat at a meal this week, had a lassi and a dessert and the bill came to £12 a head. London may be an expensive place to eat at times but Diwana shows that you can get genuinely good food at very low prices.
My iPhone wine app had a major new version this week. Version 1.2 (if you already have the app then it will appear as a free download in your iPhone app store) has a major new feature. As well as being able to look up the average retail price of a wine and so see the level of restaurant mark-up, you can now look up the wine merchants that stock that wine. If you wish the app will dial a merchant directly, look at their web site or email their details to yourself. This feature also extends the scope of the app, since you can now use it when out wine shopping. Before purchasing that tempting wine on the shelf, check how the shop price compares to other merchants. In my own experience I have found significant variation of wine prices in UK shops, especially for classier wines, so the app could really save you some money here. You can download the app here.
The press was suitably excited by the St Pellegrino Top 50 Awards (actually it is the Top 100), a brilliant PR idea dreamed up some years ago by Restaurant Magazine, which has become a major media event. As I have written before, I find the list itself pretty much absurd (Japan is barely represented on this supposedly global list, with less entries than Sweden on the Top 100, while the sequence of entries and indeed the omissions for France is beyond laughable) but it gets people talking about high end restaurants, which can only be a good thing for the industry. Nice to see Ryugin getting some recognition at last, as well as Aqua and Schauenstein, and perhaps the list works best as a way to gain attention to places that may otherwise be overlooked, like the excellent Quay in Sydney. I will not dwell on the absurdities: Kitcho, perhaps the best restaurant in Japan, languishing 13 places below the dismal Nahm in London, is just one example. However I think non-Michelin starred bistro Chateaubriand being rated best in France sums up the accuracy of this list best. This alone makes it beyond parody.
I am delighted to be able to add to the web site a chef interview with Alexandre Bourdas, chef/patron of the wonderful Sa Qua Na. A star of the future, in my view.