Park Chinois Revisited
Saturday, January 09th , 2016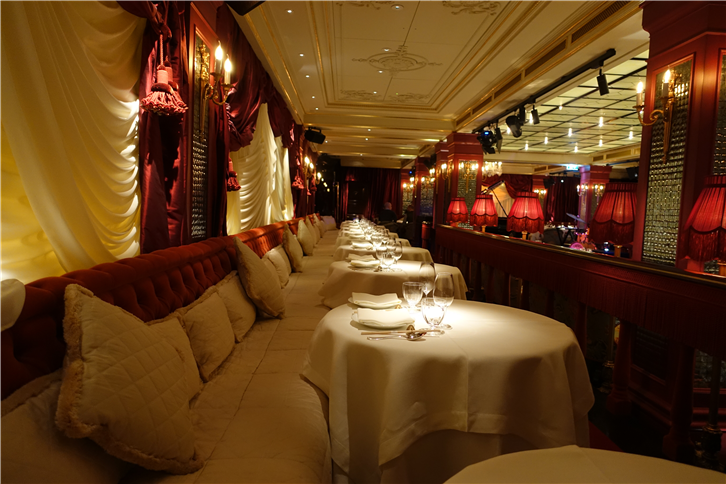 Two Taj hotels in London have well-known restaurants. The Bombay Brasserie redefined high end Indian dining in the capital when it opened in 1982, and had a refurbishment in mid 2015. Although the dining room is improved I can never grasp why they do not use the much more appealing conservatory except for weekend buffets. The food can be very good, but some inconsistency has crept in recently based on my last two visits. Tandoori scallops at this visit were ordinary, following a sub-par fish curry a few month earlier. There has been no chef change so I am not sure what the issue is, but given the high price point I hope they iron the problem out.
Quilon delivered a more even experience, with good pepper shrimps, lamb biryani and Mangalorean chicken at this visit. It is nice to see southern Indian food get some exposure when so many London restaurants offer north Indian staple dishes. This being St James, prices are higher than the typical high street experience, but so are the quality of the ingredients. I just wish they would ramp up the spicing a little rather than toning things down for perceived western palates.
I thought I would try Park Chinois one more time after an enjoyable but expensive and slightly erratic meal soon after opening. The room is gorgeous here but the kitchen shows no sign of having settled into a rhythm. At this second visit the Peking duck was overcooked and some dumplings were a little on the chewy side, though gai lan was lovely, and Bang Bang chicken salad was good. However given the truly steepling prices here this kind of roller-coaster ride over the menu is not really on. If Hakkasan and Yauatcha can deliver consistently excellent food across their vast London venues then a more ambitious restaurant like Park Chinois should certainly be able to. The glamorous room, live jazz and huge stock of waiters here need to be complemented by better cooking in order to justify the dizzying bill.
The Waterman's Arms is a unassuming little boozer in Brentford. Its appeal lies not in its basic décor or even its proximity to the river, but rather the cooking of its landlord Gordon Fry. Although you can have capable pub grub here, the much more interesting option are the Japanese izakaya dishes; Mr Fry has a Japanese wife and lived in the land of the rising sun some years ago. His dishes have punchy flavour and are carefully made, all at very modest prices. If you are ever in the Brentford area then do yourself a favour and give it a go.