Hakkasan Mayfair reviewed
Saturday, November 27th , 2010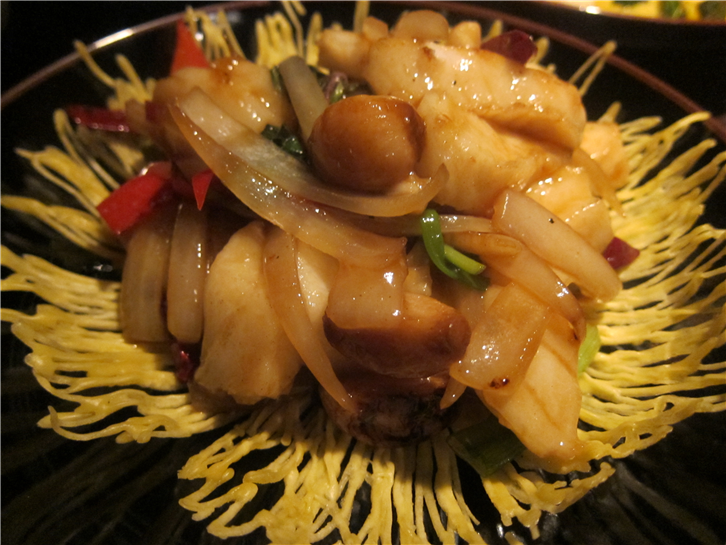 I was very impressed with the new Hakkasan Mayfair, which right out of the box managed to deliver a silky smooth experience at least as good as the original London branch. Dim sum is a strength here, and spicy prawns were terrific, as was nicely presented sea bass (pictured) while the depth in the kitchen could be seen with a chocolate soufflé that would have been in place in a Michelin starred French restaurant. Service was superb, and while I may cavil about the size of the bill, which is undoubtedly large, it is a very impressive restaurant.
Rosemary Lane conjures up images of leafy idyll, but is actually in a dubious side street near Tower Hill under the Docklands Light Railway. I liked the dining room, and the service was genuinely welcoming, while the cooking had its ups and downs. However the prices were very fair, both for food and wine, and in this part of London it stands out.
Les Deuc Salons, the sibling of Arbutus and Wild Honey, is a large scale bistro just off the Strand. It is already packed out, the product of a crowd-pleasing bistro menu and consistently capable execution. Dishes such as fish soup and cassoulet are common enough on bistro menus, but are rarely as well executed as they were here. Prices are acceptable, and this is clearly already a highly successful venture.
I have now tried two lunches at Yoshi Sushi, an unassuming Japanese restaurant in Hammersmith. In general it pays to be sceptical of food writers praising restaurants on their doorstep: the convenience of being within walking distance subliminally preys on the mind, so I went twice before covering it. This is not a restaurant to make a special trip to, but it did serve two good value lunches and one genuinely good eel dish. It is not that easy finding good restaurants locally, even in an area of West London brimming with choices, so places that actually deliver decent food at a fair price should be applauded.
It was a bumper week for Michelin, who brought out its Tokyo, Italy, Spain & Portugal, Netherlands, Belgium and Luxembourg guides this week. In Belgium, there was no change at the three star level but two new two star places:

Nuance
Aan Tafel bij Luc Bellings

There were eight new one star places, while six lost their stars (as well as two star Tongeren a Vliermaal, which is closed for a major refurbishment). In the Netherlands there was no change at the three star or two star level (other than Apicius losing its second star), but there were nine new one star places.
The Tokyo guide this year is expanded to cover Kamakura, a pretty seaside town popular with city residents at the weekend, and Yokohama, Japan's second largest city. There are ten one star places in Kamakura, and in Yokohama there are a pair of two star places (Chiso Kimura and Masagosaryo) and 14 one star places. In Tokyo itself there were three promotions to the three star level:
Hamadaya
7chome Kyoboshi
Usukifugu Yamadaya
7chome Kyoboshi is a tempura restaurant and Usukifugu Yamadaya is a fugu restaurant (fugu is puffer fish, the one where you really do want a qualified chef to prepare it). Hamadaya's promotion is an utter mystery to me, especially when the terrific Ryugin (for me and many others the best restaurant in Tokyo) languishes at two stars. One restaurant also entered the guide out of the blue at 3 stars.
Araki
This is a tiny sushi restaurant located in the residential district of Kaminoge, a train ride away from central Tokyo. As previously reported on this blog, Osier is closed for refurbishment (for three years!) so loses its 3 stars, at least for now. In total Japan now has 26 three star restaurants, which at the moment is the same as France, though of course we have yet to see the Michelin France 2011 guide, which appears in March. There are also 54 two star places in the Tokyo guide and 198 one star places. In total Japan now has 625 Michelin stars to its name, compared for example to 278 in Germany and 120 in Belgium (though of course not all of Japan is covered by Michelin). The Tokyo guide shows a 23% increase in total stars over 2010, even ignoring the addition of Yokohama and Kamakura.
In Italy there was no change at the three star level., and two new two star places. The Michelin press release was what one might politely describe as in need in improvement, as there are two named one star places in the introduction that do not appear at all in the main lists (a new mystery category?), and inconsistencies in the total stars quoted within the same press release. Ah well.

In Spain there was no change at the top, but some new two star places:
Azurmendi
Miramar
Ramon Freixa Madrid
Calima
plus 17 new one star places, while Abac lost a star. There were no additional starred places in Portugal. For Michelin this leaves only the China guide (December 2nd), the UK guide (late January) the France guide (March) and the Main Cities of Europe Guide (late March), which picks up the countries not covered by country-specific guides, including Scandinavia.
Back in south London, the excellent Kastoori seems as if it may have to close due to a long-running dispute with the landlord. However it is likely to reopen in the area, possibly under the name of the owner Manjor Thanki.
In other news, Michel and Albert Roux have taken over The Landau, with chef Chris King, who has worked at Le Gavroche for five years, after a spell at Per Se in New York.