From Balcon to burgers
Friday, December 09th , 2011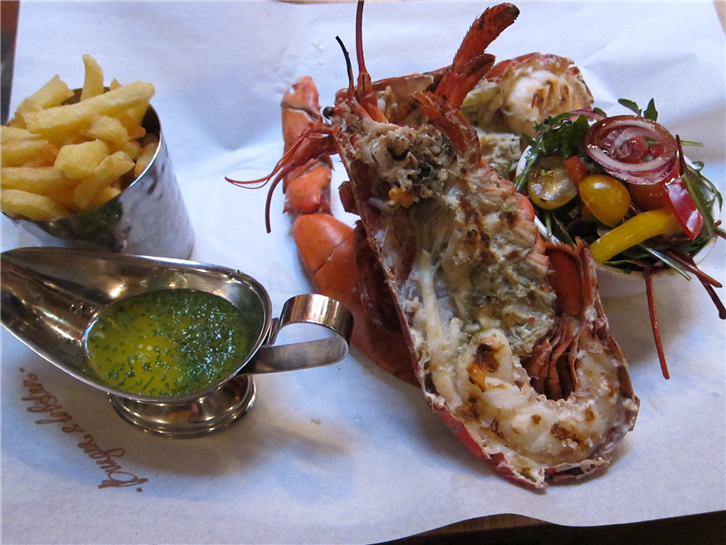 Balcon used to be Brasserie Roux in the Sofitel St James, but has now gone its own way. The room certainly looks much better, an attractive space where a lot of attention has been lavished. This was less true of the food, though there were some pleasant dishes, especially a hearty cassoulet (pictured). Yet tasteless and overcooked brill, and a soufflé that had neither risen nor was cooked through were the kind of mistakes that I don't expect when laying down over £90 a head (and that was with one of the cheapest wines on the list). The menu is certainly appealing and the space is attractive, but it didn't really work for me. The £6 charge for a bottle of mineral water did not help its appeal (if you think wine mark-ups are steep in London, check out the mineral water prices). Atmosphere is important in a restaurant, but there is only so much that fancy room design can do: you do need to be able to cook consistently well too.

Aurelia is the younger sister to La Petite Maison and Il Baretto, offering Mediterranean food in Mayfair. It has lots of appealing dishes, set out seemingly in conventional Italian style, with sections of starters, pasta and main courses. But no, the "concept" was sharing, and the dishes arrived in whatever order the kitchen cooked them in. This makes no sense to me with this style of cuisine, and simply causes confusion. It is a distraction that the place could do without, as the cooking was rather erratic, with some very good dishes but some false notes too. At full-on Mayfair prices you expect consistency and not having to guess when your companion's pasta dish will arrive, and so whether you should start yours or wait.

The Admiral Codrington delivered a much better value experience, though also with some food ups and downs. A highlight was a very good burger (the chef is extremely interested in burgers, and it shows) and a genuinely good, short wine list with well-chosen producers and distinctly fair mark-ups. This is Chelsea, and yet the wine mark-ups are very reasonable (especially on the better wines), encouraging diners to drink well: please watch and learn, recently opened Mayfair restaurants.

Yauatcha delivers remarkably consistent, high quality dim sum given the sheer scale of the place. Over numerous visits I cannot recall a technical problem with a dish, which is an achievement when you consider just how many dishes are leaving the kitchen here every day. The char sui buns are genuinely light, with a rich, slightly sweet pork filling with none of the gristle that appears all too often in lesser versions of this dish. Har gau steamed dumplings are excellent, and the baked venison puffs are a long-time favourite. A soft shell crab this week arrived without a hint of the greasiness that so often afflicts this dish. A class act.

I also attended the launch of the Mince Pie Project, a charity event supported by a number of leading chefs. You can bid for mince pies designed by a varietry of famous chefs; their web site shows the current bidding. It is in a good cause and you might end up with some mince pies, so have a look and place a bid if you wish.

We are now well into December, which as a regular diner I find the worst time of year to eat out in London. The restaurants are full of loud office parties and are even more packed than usual, which makes the restaurant staff stressed and cranky. Restaurant owners cash in by squeezing in more tables than normal and offering "special" menus that are essentially restricted choice menus at inflated prices. Ah, for those blissful days of January, where I can turn up just about anywhere and have a table at whatever time I want, rather than the "we can fit you in at 5:45 but we'll need the table back by 7, or we have a cancellation at 10:30" conversations that abound in December.