The Alba Truffle Festival
Saturday, December 10th , 2016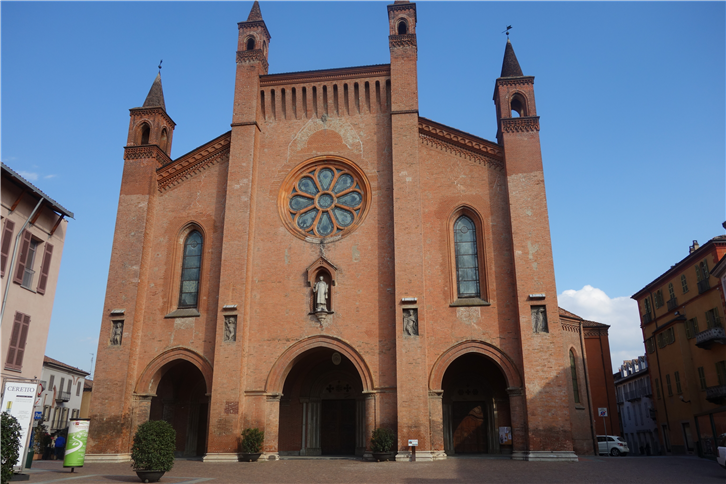 Alba is famed for its white truffles, and in November there is a two week festival to celebrate its most famous culinary offering. There is a truffle market with a small entrance fee if you want to buy, with an inspector on hand to ensure quality (truffle hunters have been known to get up to various tampering tricks to make their truffles seem more than they really are). The town itself is pretty, with a ring road encircling the central old town centre. If you decide to visit then plan well in advance, as hotels and even guest houses get booked up months in advance these days.
I had been urged to return to three star Piazza Duomo, and had a lengthy tasting menu there. This time there were some very enjoyable dishes, such as rabbit with okonomiyaki sauce in a steamed bun. There was also a take on the famous Bras gargouillou dish, using dozens of ingredients from the two farms that the restaurant now run. Yet despite there being some good dishes like these the meal was a roller coaster, with an overly bitter and distinctly odd dish of sea urchin, turnip, Japanese condiments and cheese being just one example. Service was superb and the best dishes, including an excellent venison one, showed that there is ability in the kitchen, but it seems to be an uneven experience.
On the same trip I also ate at Combal Zero in Rivoli. This is very much a modernist restaurant, despite its setting within the historic city castle. To give you an idea of what to expect, the chef's signature menu is served essentially in reverse order other than dessert, so you start with the heaviest dishes and work backwards to a salad at the end. It is innovative for sure, but in my view not an improvement on the way that the rest of the menus of the world unfold. The meal was a distinctly mixed affair, with a couple of nice dishes including a veal kidney with champagne and gin sauce, but there were some serious misjudgements too. One dish involved pouring dashi over a block of squid ink spaghetti, which was supposed to melt it into its constituent strands, but failed to do so. What is a bit frustrating is that I think the chef is actually quite talented. At the start of the meal I asked him if he could add a single classical dish. He did so (Fassone beef in a bread crust) and it was by a wide margin the best dish of the night. If only he could produce more pleasurable dishes like this, which he is clearly capable of doing, and focused less on innovation for its own sake.
By contrast with these two modernist restaurants, I also tried two much more traditional places in the hills above Alba. Bovio was charming, putting together a truffle menu for us that sensibly had simple dishes in order to show off the very fresh white truffles. The tagliolini showed that there is good technique in the kitchen, and the meal was overall highly enjoyable. As a bonus the wine list is terrific, extensive and with plenty of keenly priced offerings. The staff exuded real charm and I would highly recommend the place.
I also really liked La Ciau del Tornavento, whose wine cellar is reputedly the largest in Italy, and where the prices of many of the wines are roughly their retail price, so you can indulge without feeling ripped off. The room is elegant and the food was worth its Michelin star, with for example a terrific starter of baked onion stuffed with veal sausage served with fondue. There were a few inconsistencies in the dishes that we tried, but the combination of the lovely view over the vineyards, the cooking, the charming staff and the superb wine list make this a place well worth trying if you are in Alba.
As a bit of fun I carried out a small survey of a select group of food bloggers about their picks for the best 3 new London openings of the year, their top 5 London restaurants, and a single pick for good value eating. Half the bloggers were London based and half were international bloggers who visit London regularly. The top London opening of the year was Som Saa, with multiple votes also for Kiln, Padella and Barbary. Top overall position was a dead heat between Hedone and The Ledbury, these two winning by a wide margin. The individual "good value" category had the following picks: Diwana Bhel Poori, A. Wong, Black Axe Mangal, Hoppers, Padella, Zoilo, Tayyabs, The Ninth and Parlour, as well as a mention for the cheap set lunch at Gordon Ramsay. Thanks very much to all those that took part. In addition to myself the voters were bloggers Luxeat, Elizabeth on Food, Skinnybib, Foodiehub, Fine Dining Explorer and QLIweb on the international front. From London the bloggers were The Epicurean, London Eater, Cheese & Biscuits, London Tastin', The insatiable Eater and myself. Thanks to all those people for kindly participating.