A Visit to Florence
Saturday, May 16th , 2015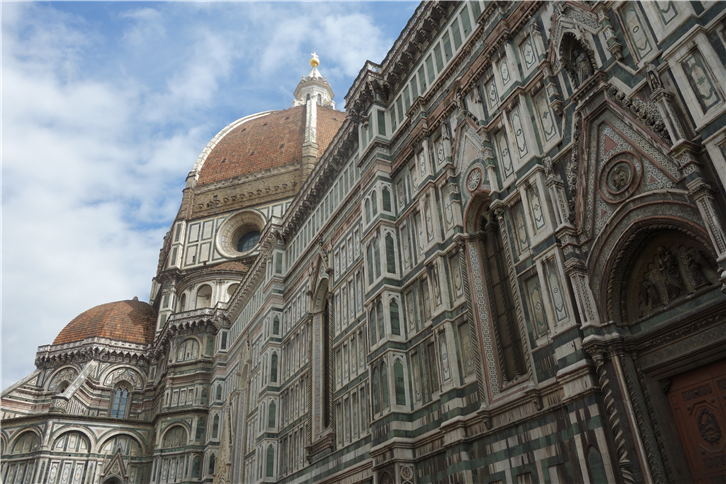 Ora d'Aria has a Michelin star and delivered a capable, though expensive, meal. The best dish, a lasagne involving rabbit ragu, was very good indeed, though not everything was to that level, as with some tempura that would have been frowned upon in Tokyo. The unevenness was a little surprising, especially given the sizeable bill, though overall I can see how it gets a star.
A flashier yet less successful meal was served at the riverside Borga San Jacopo just yards from the Ponte Vecchio. This was all white linen tablecloths and impeccably dressed waiters, but the cooking did not live up to the surroundings. There was some clever presentation but inconsistent cooking, although the desserts rescued things somewhat. At the price this is hard to recommend, riverside view notwithstanding.
Pizzeria O'Vesuvio offers Neapolitan style pizzas, with a huge 700F oven and an unusual amount of care taken in the making of the pizzas. The dining room itself is very basic indeed, with close packed tables and someone's washing hanging up over the oven, but the pizza was very good, and some care is taken with the sourcing of the ingredients for the toppings. It was very fairly priced too.
It is a long time since I visited Enoteca Pinchiorri, the only multi-starred restaurant in Florence. There were clearly problems at that time, as not only did I have a disappointing meal but Michelin demoted it to two stars, which is not something that they do lightly. This coincided with the restaurant owners opening a restaurant in Japan, and perhaps their attention had drifted. Anyway, nine years later the restaurant regained the third star, a rare feat. The meal that we had this week was certainly of a good standard, with high quality seafood in particular and pretty presentation. The wine list here is vast, and very unusual in that it offers virtually no modestly priced wines at all. The mark-ups are not excessive, and there are even some bargains, but they simply do not offer any remotely cheap wines. Given this, you can either drink water (itself no bargain here) or just go with the flow, order some nice wine and accept that you are going to have a hefty bill.
If you are thinking of a visit to Florence then some planning is required. The nearest proper airport is Pisa, which is quite a distance from the city (there is a tiny airport in Florence, but good luck finding a flight that lands there). If you do not have €225 burning a hole in your pocket for a taxi from the airport to the city (about 50 minutes) then you have two choices. You can take a shuttle bus to Pisa train station, but bear in mind that there are lengthy gaps in the train schedule. There are also coaches from the airport that go directly to Florence. Though inexpensive, the tickets are on a first-come, first-served basis, so you may not be able to get on the first coach that arrives and have to wait half an hour for another one, followed by a one hour drive and then having to get from Florence station to your hotel. Sometimes the Heathrow Express does not seem so bad. Also be aware that if you want to see the Uffizi then you must book tickets in advance, and for other attractions like the Pitti Palace and the cathedral there are really long queues. Florence is a beautiful city but is very, very popular, with hordes of visitors even in early May. A glass of coca cola at a café in the centre will set you back a cool €8, so set your expectations accordingly.