The Harwood Arms is on form
Saturday, April 10th , 2010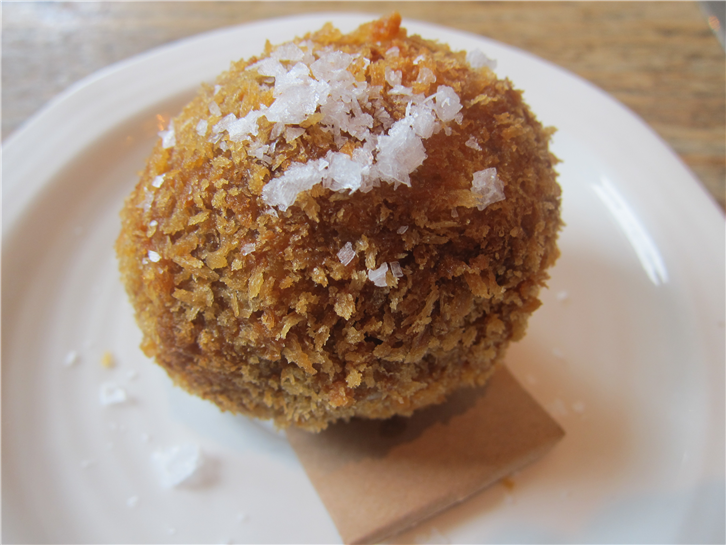 My search for decent Thai food in London continued this week with The Bedlington Café, a family-run west London restaurant that has been operating continuously since 1985. It is a simple place, serving up English breakfasts during the day, switching to Thai food in the evening. The staff were friendly, and prices were low, and there was the bonus of being able to bring your own wine for a corkage of just £1. Sadly, despite starting with a nice spicy som tam salad, the rest of the food was quite disappointing, with bizarrely bland noodles, deep-fried fish that was not crisp, and watery soup. There were just too many problems to really be able to recommend this place, even at the low prices.
I can hardly believe my luck that Franco Manca opened up at the end of my road a few months ago. The Neopolitan pizzas are simply dazzling, due to a carefully rested sourdough base, high grade toppings and a beast of an oven, all eight tons of it, which will cook a pizza in under a minute. I also like the attention to detail in other areas. The espresso, for example, is made from a blend specially commissioned from the high quality Monmouth Street Coffee shop, and is very good indeed. I would be happy if I was served this coffee at a Michelin-starred restaurant.
The Harwood Arms has the great advantage of having access to game from Mike Robinson of the Pot Kiln, a keen hunter who knows a lot about the butchering and hanging of meat. This week a superb shoulder and cutlet of fallow deer showed off this strength, and the seasonal approach was also shown in the starter: pheasant egg with morels on sourdough toast. Technical execution is always reliable here, and the reputation of the Hardwood has grown and grown; now that it has its Michelin star the only problem is getting a table. Of course, no visit to The Harwood would be complete without its venison Scotch egg (pictured).
Tangawizi continues to deliver some of the best Indian food in London. These days it is bursting at the seams, and hopefully in due course they will be able to offer expanded seating by expanding into the next door premises (at present they are awaiting planning permission). As ever, the handling of the prawns was spot on, with tender, carefully spiced shellfish, and superb, supple naan bread. I also enjoyed a chicken biriani, though a cauliflower courgette starter was merely pleasant. The black dhal here, a copy of the famous one at Bhukara in Delhi (where one of the chefs worked) is as good a dhal as I have eaten.
This week I was involved with the filming of the quarter finals of the third series of "Masterchef Professionals", which will air in the autumn on BBC2. Obviously I can't discuss the specifics, but as ever it was an interesting experience. Chatting to Michel Roux Junior, I can tell you that his new restaurant in Westminster will open in early May, probably around election day (builders permitting). Daniel Cox, a Roux Scholar, will be at the stoves, and the cooking will be contemporary French rather than the classical cooking style of Le Gavroche.
Some high profile chefs are on the move. Alexis Gauthier, long-time executive chef of Rousillon is moving on to pastures new at the premises of The Lindsay House. I have now clarified that Alexis will be striking out on his own here i.e. there is no connection of his new venture to Roussillon. For now the Roussillon kitchen brigade will be headed up for now by its existing head chef of eight years standing (Gerard Virolle) while the restaurant ponders its options for a new executive chef. In an even higher profile move, Jason Atherton is to leave Maze and also set up on his own, outside the Gordon Ramsay empire. The exit door is getting crowded there, as Paul Walsh (second in command at Royal Hospital Road) is to also leave the group to become head chef at a new spin-off of Texture, to be called 28/50 and will open in June.
Congratulations to Dhruv Baker, winner of this year's Masterchef competition; his food looked genuinely interesting. Is it just me, or is anyone else curious as to why doctors (one of the finalists this year; a consultant no less) and lawyers (winner two years ago) appear to be queuing up to swap their careers for one in catering? It really must be passion, as it is sure isn't the money, short sociable hours or the pension plans on offer in catering that is attracting them. When investment bankers start applying for Masterchef then I'll know that the world has finally gone mad.
The blog next week will not be on its usual Saturday due to what promises to be an interesting jaunt.