A visit to Hyderabad
Saturday, December 31st , 2016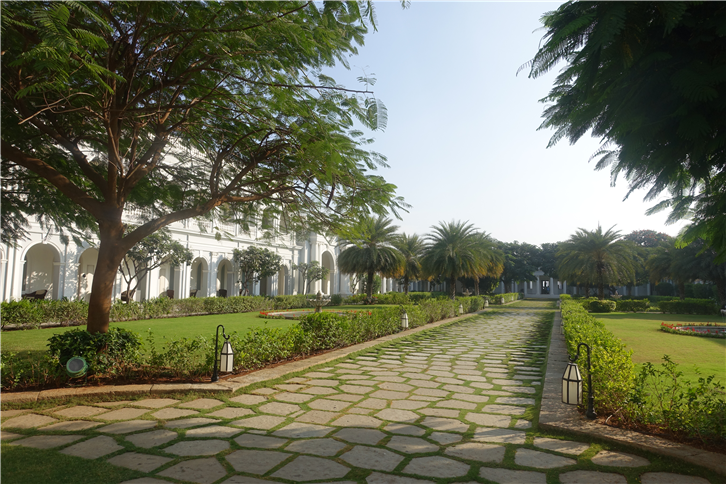 I had a week's break in Hyderabad, returning to the Falaknuma Palace Hotel. This used to be the Nizam of Hyderabad's residence, and as befits a ruler who was in his day the richest man in the world, it is opulent. Now a boutique hotel run by the Taj group, it is perched on a hillside overlooking the city, its lofty location meaning that it is several degrees cooler than the official temperature in Hyderabad, a very useful feature given the climate of India. Hyderabad is one of the largest cities in India, with a population of over six million, and has some quite interesting sights including the famous Golconda diamond mine. However the Falaknuma Palace itself is the most impressive building in the city, all white marble and gorgeous interiors. It also has a top of the range restaurant called Adaa, which serves Hyderabad cuisine and other dishes from across India. Hyderabad is known for its biryani, and the version at Adaa is top of the range, the rice as flight, fluffy and fragrant as you could wish. I tried many dishes over the course of my stay, highlights including excellent salmon tikka, top class paneer tikka and black dal, along with fine bhindi and excellent bread.
This was a holiday rather than a food trip, but I did try one interesting meal at a restaurant called Firdaus. This meal highlighted Nellore cuisine, an area south of Hyderabad on the coast, and featuring prawn and seafood dishes making much use of tamarind, red chillies and sorrel. This was a new cuisine to me but an interesting one, and Firdaus executed some very good dishes, including an excellent cashew nut curry, and a dish of chilli peppers stuffed with tamarind. If you want to try a more local take on biryani then the locals seem to favour two places: Paradise and Bawarchi, though I confess that I did not have the patience to endure an hour of traffic across the city to try these when I was able to eat a perfect biryani on my doorstep.
Hyderabad is not the first name that trips off the tongue when you think of India tourist destinations, but although Goa and Kerala have their beaches, Hyderabad has a direct British Airways flight from London, traffic much lbeter than Mumbai and a world class destination in the form of the Falaknuma Palace. If you ever feel like treating yourself to a winter sunshine break you could do worse.
Looking back at 2016, I reviewed 44 new restaurants in London in 2016, the best of which was Jamavar. I also enjoyed Som Saa, Talli Joe, The Ninth, Pittcue in Fitzrovia, Totide, The Woodford and Killer Tomato. It was another year where there was very little in the way of ambitious, fine dining openings. This may be a function of the low level of profitability of fine dining compared to more casual formats, combined with high London rents. My best meals in 2016 were at Cheval Blanc, Hotel de Ville, Pic, Troisgros, Nanachome Kyoboshi, Schauenstein and Uchitsu. The best food that I ate in the UK this year was at Hedone.
Happy New Year to everyone!