Rowley Leigh's new Cafe Anglais
Saturday, November 24th , 2007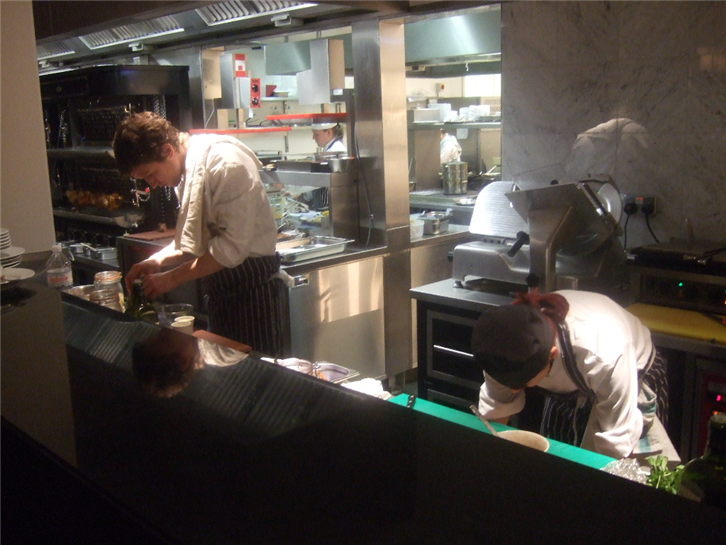 It is always problematic going to restaurants just after they open, as it can be tricky to separate teething problems from something more fundamental. Yet of course people are anxious to know about new places. One solution is to have a "soft opening", where fewer tables are filled than capacity, and where prices are discounted to allow for minor slips. This was the admirable policy at Le Cafe Anglais (pictured), though the sheer number of problems I encountered suggest that a lot of work is to be done to get the standard up to that of the iconic Kensington Place, where Rowleigh Leigh was head chef for many years.
I have not been to Odette's in Primrose Hill since its major refurbishment, and I enjoyed it very much, with roast venison in particular standing out. There are surprisingly few good restaurants in North London, so this is one to be treasured.
I was also pleasantly surprised by Giusto, which is a pizzeria, yet as well as producing superb pizzas had Italian food that was far superior to anything you will encounter in a regular pizza chain. For example desserts were 5/10 level. This is definitely somewhere I will return to.
At old favourite Indian restaurant the Brilliant I had a couple of off-menu dishes that really impressed me. Tandoori quail was simply stunning, marinaded in spices and then cooked in the tandoor to perfect tenderness. Quail is a lovely bird, with much more flavour than the chicken usually used in Indian restaurants. Here it showed that it could comfortably stand up to being cooked with spices, and both this and a quail masala tasted simply superb. I hope this gets added to the regular menu.
The Michelin Spain 2008 Guide was untypically restrained. No changes at the 3 star level, and just one new two star in Barcelona (Abac). Of far more interest was the first Michelin venture into Asia, the Tokyo guide, which has created a food media storm. I was intrigued as to what Michelin were going to do in Tokyo. If you have not been to Tokyo then you may not be aware of the depth of food culture there. New York has 20,000 restaurants, but Tokyo has around 200,000 (estimates seem to vary significantly from 160,000 to 300,000, but a figure of just over 198,000 that I found looked the most authoritatively sourced). If nothing else, this will have kept the five Michelin inspectors busy.
The results sent some shockwaves around the foodie world, especially to those who have not been to Japan. The Guide awarded the ultimate 3 star accolade to eight places (click here for the list). There were also 25 places worthy of two stars, and no less than 117 one star places. In all, 191 stars; there were so many good restaurants that they did not even attempt to award "bib gourmand" (the level below one star), perhaps for reasons of space. The media has picked up on the fact that, although Paris has ten 3 star places, Tokyo's depth dwarves Paris, which has, by my count, 98 stars. One thing I found odd in the media coverage was the almost random numbers associated in different publications with the number of starred places in Paris. Just to be clear, there are ten 3 stars, and 13 places with 2 stars, as follows:
Carré des Feuillants
Hélène Darroze-La Salle à Manger
Relais Louis XIII
Apicius
Le Bristol
Le ''Cinq''
Les Élysées
Lasserre
Les Ambassadeurs
Senderens
Taillevent
La Table de Joël Robuchon
Michel Rostang
As well as 42 one star places. That is 65 starred places. 42 + (2 * 13) + (10 * 3) = 98 last time I looked. The Caterer was at least close with 97 (ditto the Telegraph), but I have seen numbers all over the shop in the press e.g. 64 (Huffington Post) or 94 (Daily Yomiuri). Congratulations to Jay Rainer in a Guardian article for quoting 98, the one publication that seems to be able to add up. Bloomberg got the elements right also, but perhaps wisely did not try to add them up, while the BBC played it safe and just said that Tokyo had "nearly double" Paris. I know journalists generally have arts rather than science backgrounds, but how hard is this?
Anyway, congratulations to the Tokyo restaurants that have stars, and I think to Michelin for doing a comprehensive job and was not afraid to award 3 stars to a simple sushi bar (Sukiyabashi Jiro) whose toilets it shares with another restaurant. Its chef, 82-year-old Jiro Ono, is now the world's oldest three-star chef. To restaurateurs who always assume that they must spend a fortune on crockery and glasses to please Michelin, this should surely show that it is all about the food.