A visit to Hiroshima
Saturday, November 30th , 2013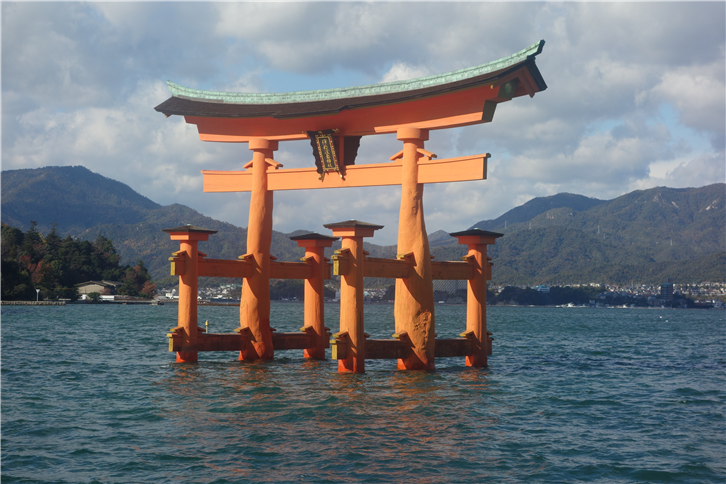 Hiroshima is over 500 miles west of Tokyo, yet the fastest shinkansen train whisks you there in just four hours. The city, for obvious reasons, is generally pretty modern in terms of its architecture, though they have restored the castle nicely and there is a pretty garden called Shukkeien, which contains a solitary tree that survived the nuclear blast. 17 miles west of Hiroshima (half an hour on a local train plus a ferry) is the lovely island of Miyajima, which has one of the most famous sights in Japan, the torii gate (pictured) of the Itsukushima shrine, which due to the tide usually appears to be floating in the water (except at low tide, when it is fully on dry land).
Nakashima was granted three Michelin stars in the 2013 special edition of Michelin to Hiroshima. It is a kaiseki restaurant and was very good. It would not compete with the very top places in Kyoto, but was a fraction of the price. A two star kaiseki restaurant called Kodama was significantly less good, but the two star tempura restaurant Tenko Honten was excellent. I was also very impressed with a tempura restaurant called Tsukunejima that eluded Michelin , but for me was comfortably one star level, and almost absurdly cheap. For casual food, Hiroshima is noted for its okonomoyaki savoury pancakes, which are filling and delicious. There are hundreds of restaurants that serve this, but I had a good version at Ganso Henkutsuya, which was recommended to me by a chef.
On the way to Tokyo (next week's blog) I stopped in Kyoto to visit Kichisen, the latest three star Michelin restaurant in Japan. Kyoto being the home of kaiseki dining, that is the style at Kichisen. It seemed to me to be up there with several of the six other three star places in the city, though not right at the top of the tree.
As ever when visiting Japan, several things strike me: the remarkable courtesy of the people and their kindness to visitors, the dazzling efficient railway system and the toilets, many of whom have a control panel worthy of a jet airplane. If staying in Hiroshima you could do a lot worse than The Sheraton, which is conveniently next door to the railway station: the staff there were great.
The Michelin 2014 guide for The Netherlands came out. There was a new three star restaurant, de Leest in the little town of Vaassen. De Librije retained its three stars but Oud Sluis sadly closes at the end of December, so disappears from the guide. At the two star level, there were promotions for Bordeau in Amsterdam, FG and Fred in Rotterdam, and the loss of two stars for Ron Blaauw. The Netherlands now has 2 three star restaurants, 19 two stars, and 84 one stars.