A week of fine dining in London
Saturday, December 24th , 2011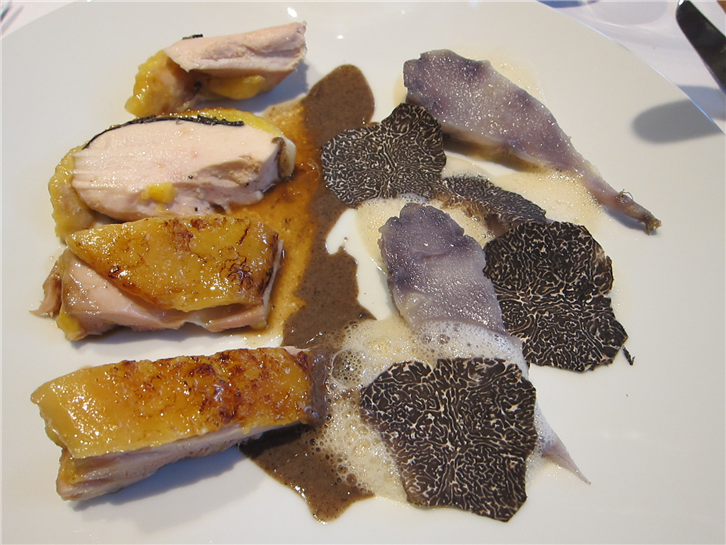 Alyn Williams was head chef at Marcus Wareing, and the good technique always on show there shows through in his first stand-alone venture, at the Westbury Hotel in Mayfair. The food features luxurious ingredients such as langoustines, yet at this stage you can still eat a three course dinner there for £45, which is a fair price for food of this quality. This is not trying to be at the cutting edge of cooking, and we can all be thankful for that. No wacky ingredient combinations: just enjoyable, high quality French food. There were still some minor things to iron out on our visit, but it is already operating at a high level.
I actually had two meals at Hedone in quick succession, taking advantage of the first black truffles of the season. These were used to good effect in a particularly impressive dish, capon from Bresse. Capons are what the French eat for Christmas while we in the UK are still wondering what bright spark though it was a good idea to choose turkey, a bird with fairly tasteless meat that dries out easily, for our annual celebration meal. The very finest of all capons are those from Bresse, and the best of these are competition-winning birds. Hedone served the competition capon (pictured) with black truffles and an intense sauce made from the capon cooking juices that requires a multi-stage process taking five elapsed days. Also brilliant was a venison variant on the classic dish Hare Royale, the sika deer here cooked in two different ways, the dish very carefully balanced. Since Hedone opened in June I have eaten eighteen meals there; if you haven't been then I suggest you give it a try. It has been a breath of fresh air at the high end of the London food scene.
The cooking at the Ledbury just gets better and better. I had a lovely meal there a year ago, and this this week I tried a range of excellent dishes. Highlights were a delicate foie gras parfait with chestnuts, a superb dish of mackerel and eel with shiso and mustard dressing, a spectacular display of pigeon and woodcock as the main course, and an airy passion fruit soufflé. Every dish during the lengthy tasting menu was of a high standard, and I have nudged the score on my web site up a point to reflect this consistent improvement in execution.

Zafferano is an old favourite of mine; I stopped counting my visits here when I got to 100 some years ago. Strictly, it no long produces the best Italian food in London (Apsleys does that now) but the staff are great here and I always enjoy Zafferano's food. This week, white truffle risotto was lovely, as was a dish of porcini mushrooms with freshly made pasta.

Another old favourite is the Diwana Bhel Poori café in Euston. I have been coming here regularly since I moved to London in 1983. Over that period it has been remarkably consistent, serving terrific value Indian snacks. This week we had a larger meal than usual, with drinks, and it was still only £15 a head – for me this is some of the best value food in London.

Have a terrific Christmas everyone!