This week includes two new reviews of Thai restaurants
Saturday, February 18th , 2012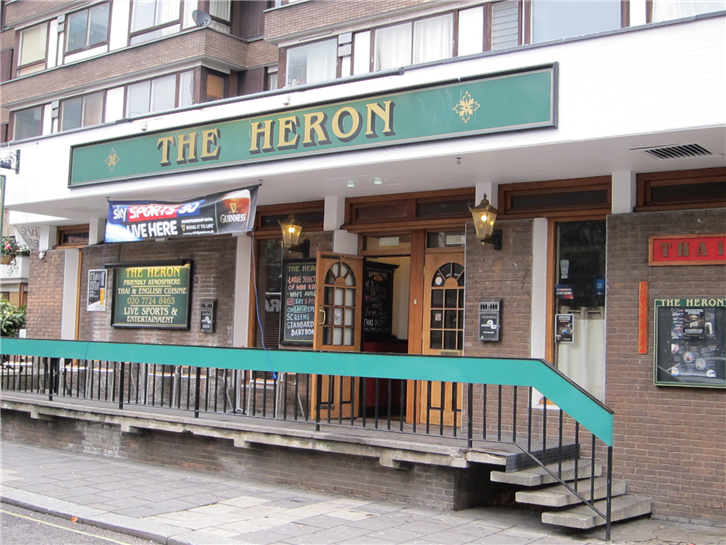 I tried two very different Thai restaurants this week. The Blue Elephant has been plying its trade in Fulham for over two decades in its vast premises, but has now moved to Imperial Wharf. The new décor is elegant, with less of a riot of foliage than the old place, but the food was disappointing. Over the years I had been to The Blue Elephant a few times, and found the food overpriced but decent, but now it seems just overpriced. If only a fraction of the effort devoted to the décor could be directed at the cooking then it would have been a much happier experience.

The Heron (pictured) is at the other end of the scale, a tiny basement in a pub, with a clientele so Thai-oriented that they have only just bothered to translate the menu into English at all. Spicing was vibrant, with sea bass in a chilli broth spicy enough to have been at home in Bangkok or Chiang Mai. There were lots of unusual dishes on the menu, and although the setting is very basic indeed there is no doubting the authenticity of the cooking. The price of the entire meal at The Heron would scarcely buy a main course at The Blue Elephant.

Hedone delivered some fine dishes, in particular a dazzling Sika deer royale with chestnut raviolo. The sauce for this dish involved four separate stages and took three elapsed days to make, to give you a sense of how much work goes into the apparently simple dishes. Also lovely was delicate woodcock and superbly fresh slip soles with citrus butter, while the bread is even better than it was before. If you have the slightest interest in high quality ingredients then you badly need to eat the food at Hedone: It has ingredients like no other restaurant on London, including the multi-starred places.

My other local high-end restaurant, La Trompette, has a very different formula: appealing, carefully cooked dishes, nicely presented; combined with smooth service and a fabulous wine list, it is easy to see why La Trompette is so popular. The gulf in the actual standard of food between here and Hedone was striking though, coming down largely to the much higher quality ingredients that Hedone seeks out. Three courses at La Trompette cost £42.50, four courses at Hedone cost £40; it is great to have such places on my doorstep.

The Princess Victoria has a new chef doing the day to day cooking, but continues the theme of simple British pub food combined with a remarkably good wine list. I enjoyed chorizo Scotch quail egg and meltingly tender pork with spinach and a high quality jus, while warm Eccles cakes were very good.

The Brilliant is an old favourite, and it cooked some particularly good fish pakora this week. Murgh tikka malai was tender, and it is nice to see romali roti on the menu of an Indian restaurant in the UK.

A new release (version 1.4) of my iPhone app Wine Search came out this week. This has several new features, such as a search history, the ability to enter wine prices via the numeric keypad as an alternative to the sliders (useful for currencies with lots of zeros) and other improvements.