From Calcutta to Barnes
Saturday, October 29th , 2016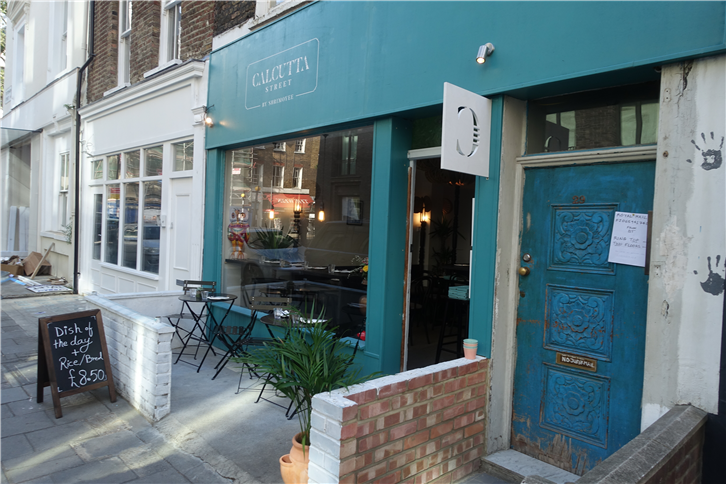 Calcutta Street just west of Goodge Street Tube station has an unusual and appealing menu featuring local recipes from the city of that name (now Kolkata). Some dishes were very good, such as chicken reshmi kebab and tiger prawns with coconut sauce. There were also lapses over the two meals that I tried here, such as weak desserts and dry paratha, but these were the exception rather than the rule, and in general the cooking was quite good. Service was a mess at my second visit, which was a pity, but the food itself is worth a look. However it is interesting that both this and Jikoni (with a chef from Calcutta/Kolkata) were not in the same league as the Calcutta cooking at Asma Khan's Darjeeling Express supper clubs. If the latter ever finds a permanent restaurant home then she will be one to watch.
There are few restaurants in London with good wine lists, but Noble Rot is one of those rare creatures. At this lunch I was unable to indulge in its delights, but the food was well worth the trip. Slip soles are a variant of the dish at The Sportsman, where head chef Paul Weaver used to cook, and are a delight. At this meal a Comte tart was also excellent, and both gnocchi and turbot main courses were very good. Bread is partly from Hedone and partly made from scratch, the latter including top class focaccia. This meal confirmed to me that Noble Rot is one of the best openings that London has seen in the last couple of years.
Shikumen is a rather odd creature, a smart Chinese restaurant in the upmarket Dorsett Hotel, situated on the west side of Shepherds Bush Green. This area, more the habitat of pound shops and a clutch of fabric sellers, is an unlikely location for such a place. Presumably the vast Westfield shopping complex has encouraged investors to consider the area to be up and coming, though it has some way to go. Shikumen itself is a vast restaurant seating 150, but there were just a handful of customers there at a weekday lunch. The dim sum was rather variable in quality, but the best elements were good, such as a capable har gau. "Wasabi prawns" lacked real wasabi but the shellfish was cooked well, and a venison puff was pleasant. Char sui buns were quite good though vegetable puffs were rather greasy. Overall this was a decent enough experience, though the bill was distinctly high given the quality of the food. This lunch was better than my first dinner here, but it is still hard to see how the place will prosper given its price point.
The Olympic Studios is an unlikely place to find a good restaurant – it is essentially a cinema café attached to the lovely boutique movie house Olympic Studios. Due to the calibre of its head chef Andreas Engberg the food is altogether better than you could reasonably expect – even the bread was made from scratch at our last visit, and very good it was too. Guinea fowl with pink fir potatoes was capable, though iman bayildi was rather lacking in spice. If you are ever in Barnes, pop in and give this quirky place a try.
The San Francisco 2017 Michelin Guide came out. Quince was promoted to 3 stars (seriously?) and Lazy Bear to two stars. There are now six 3 stars, seven 2 stars and 41 one star restaurants in the Bay Area. The fact that restaurants like Campton Place are given two stars, or indeed one, to me seriously undermines the credibility of the Guide. Quince is a nice restaurant, but a brief tour of Italy would reveal a raft of restaurants more deserving of elevation, at least in my view. An objective inspector who compared this with, say Aimo e Nadia or Don Alfonso 1890 would surely be left scratching their head.
The Kyoto and Osaka guide also came out. No new 3 stars, and a demotion for Fujiya 1935. In this guide there are now 10 three star places (7 in Kyoto, 3 in Osaka), along with 45 two star (25 in Kyoto, 20 in Osaka, plus a ryokan) and 132 one stars (64 in Oyoto, 68 in Osaka, plus two ryokans).