A busy week including some Thai food
Saturday, November 21st , 2009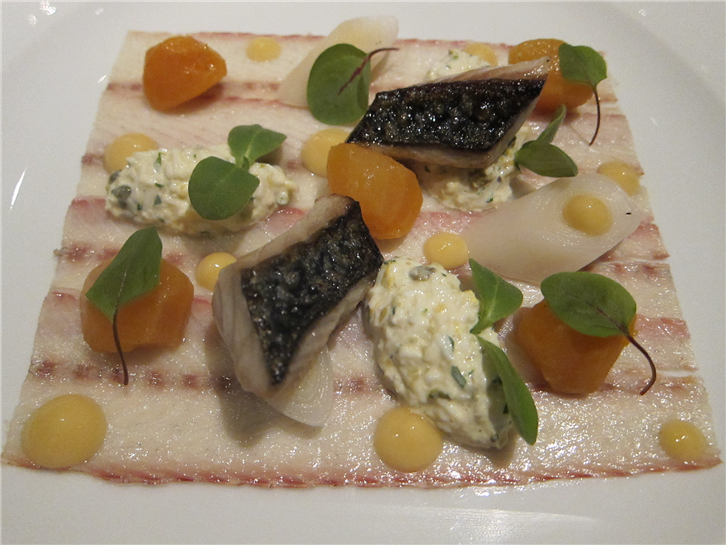 I am curious as to why there seem to be so few Thai restaurants opening these days in London. In the early 1990s there were many new places, some of them excellent. Yet when the owners of The Thailand and Bahn Thai decided, for differing reasons, to move to Thailand, little sprang up except for place above pubs on quiz nights. At present in London only Patara seems to me to be much good. In my continuing search for decent Thai food I tried Yupa's Thai Kitchen in west London. It was another so-so experience, showing sparks of competence with a good tom yum goong soup, but spoiling it with a sludgy red prawn curry. Given how,much Londoners like spicy food, surely someone out there must be interested in opening a Thai restaurant that aims above the pub grub level?
If new Thai restaurants are few and far between, the same can never be said for Italian places. The latest fashionable destination is Polpo, which styles itself as a variety of Italian tapas bar found serving food from Venice. The atmosphere is cosy, and the concept an appealing one, though the food is merely quite good. I am not quite sure why the London foodie press have worked themselves into such a frenzy over the place, though it is nice enough, with a couple of dishes with minor problems but generally capable cooking of pretty cheap ingredients. A bill of £25 for lunch without drinks did not seem to me such a great bargain, given the lunch deals that are now available at many of the capital's top restaurants.
Clos Maggiore is one of those restaurants that seems to be under the radar of the major guides, yet I had another excellent meal there this week. The place offers classical French food from a chef who trained at a two Michelin star restaurant in France, with a vast wine list and attractive décor. Not surprisingly it is packed.
Tangawizi continues to produce terrific Indian food in the unlikely setting of a parade of shops in Twickenham. The naans are the best in London, the dhal is magnificent, and the tandoori cooking excellent. The place is doing so well now that they are in the process of expanding into the premises next door, which if it goes according to schedule will mean the restaurant will close during January and February.
After my excellent initial meal at Kitchen W8 I was keen to return. I was rewarded with a meal that was even a little better than my first one, more 6/10 than 5/10. I'll try one more meal but if this level is maintained then I'll upgrade it to a 6/10. It is particularly impressive that the kitchen is operating so smoothly so shortly after opening. Dishes such as eel and mackerel starter (pictured) are attractive and innovative, and comfortably at a one star level in my view.
By contrast I had a worryingly up and down meal at Autre Pied. My first meal there two years ago was quite consistent and fairly priced, but the dinner this week was all over the map. My main course and dessert were perfectly good, but a main course fish dish was so over-salted it needed to be re-made. Worse, a fig tarte fine initially came out so soggy that the whole concoction could be rolled up like a magazine, while a second attempt yielded hard pastry and a slightly unbalanced filling. It did not help that prices have risen steeply since my first visit: the cheapest main course this week was costlier than the most expensive two years ago (the range now is £21.95 - £29.50 compared with £14.95 - £19.95 on my last visit), while starters and desserts have also climbed in price (starters are now £9.95 - £15.95 compared with around £6 - £9 two years ago). On the basis of this visit I am reducing the web site score to 4/10.
The Michelin Guide to Switzerland came out this week, with no change at the three star level. There was one new two star, the venture by Anne-Sophie Pic at the Beau Rivage Palace Hotel in Lausanne (if only this had been open when I last stayed there). There are five new one star places, and seven demotions from one star.
The 2010 Tokyo Michelin guide also appeared. I was glad to see that Hamadaya was demoted (though it still has two stars; two too many in my view), while three restaurants were elevated to three stars: Esaki, Sushi Saito and Yukimura. This means that Tokyo has 11 three star establishments, which nudges it ahead of Paris as the city with the most three star restaurants, at least for now (the 2010 Paris Guide appears in March). From the outset of Michelin's coverage of Tokyo in 2008 it had far more starred restaurants than any other city. In addition there are now 42 two star establishments, and 144 one star places, a total of 197 places with stars; 260 stars in total.
There was an interesting article in the New Yorker (hat tip to SG) involving the first official interview of a Michelin inspector. The article seemed quite deferential (no mentioning of the scandal a few years ago of Michelin Belgium giving a star to a restaurant that had yet to open) but does indicate that Jean Luc Naret is keen on being more open than his predecessors.
If you watched the Masterchef Professionals series recently then you may recall one of the finalists Marianne Lumb. She has just had her first book published, Knife Skills, which incidentally was written prior to her Masterchef adventure.
It is always tricky to find places in London to drink decent wine. Mark-ups are usually three to four times retail or worse, plus VAT. If you can get to know a local place they may let you bring your own wine for a corkage fee, but this is hit and miss. One restaurant that has taken a bolder approach is Bob Bob Ricard in Soho, where there is now a fixed mark-up of £50 for the wines from their reserve list. This may sound a lot but it is not. For example Romanee Conti Echezaux 1996 is listed at £462, but this compares to £1,600 at Alain Ducasse at the Dorchester. Because the company buy fine wine in volume, a few wines are even below retail price. I have only seen this arrangement at a few places in the past. Gidleigh Park used to have a maximum mark-up of £30 a bottle before they changed ownership a couple of years ago (don't try this now), and Croque en Bouche in Malvern used to have some wines below retail before they closed. The wine cellar at the Tate was legendary in its time, as was Browns hotel for a brief time in the 1990s, when the sommelier used to offer 250 wines by the glass before the management finally caught up with him. It is different on the continent. I have had wines below retail price in Milan and even at Troisgros recently, but in London this kind of indulgence is unheard of. Restaurant owners assume that customers who like fine wine are there to be fleeced, so apply a percentage mark-up: a few on expenses cough up, the rest of us shrug and order cheap wine. The beauty of the fixed mark-up in that wine lovers know what they are getting into and so splurge, having a happier overall experience than otherwise. It is a shame that so few restaurant owners in London court wine-lovers in this way.