New reviews of 10 Greek Street and Axis
Saturday, March 10th , 2012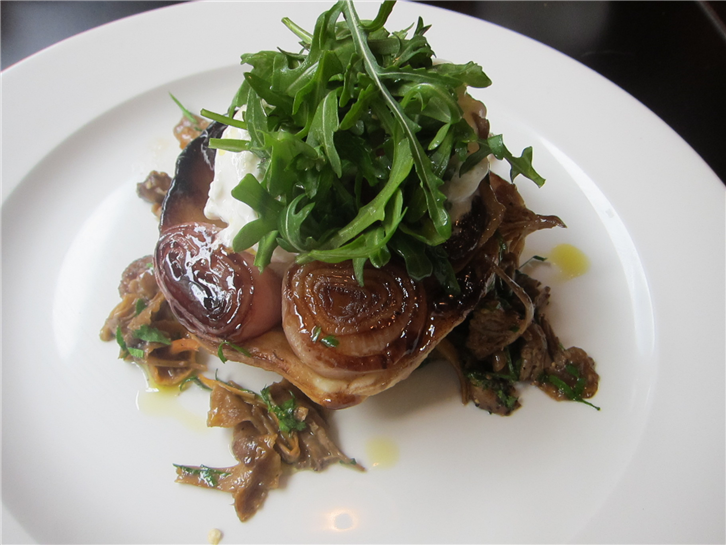 Axis, in the basement of the One Aldwych Hotel, manages to avoid hotel dining room clichés, delivering classical Modern British cooking in its cavernous setting. For the last few years the head chef has been Tony Fleming, who has a pedigree of working with some serious chefs in the past, but the restaurant has dropped off the media radar. It was therefore all the more enjoyable to discover that the cooking there now is top notch, from a remarkably good langoustine velouté at the start of the meal to a fine lemon tart at the end. I was also pleasantly surprised by the size of the bill, which was very fair for cooking at this level. It is odd how the London media works itself into a frenzy over the latest fashionable opening, yet overlooks restaurants like Axis, that just get on with delivering the goods. A hidden gem.
10 Greek Street is a new Soho restaurant with an Australian chef, though the food is firmly British. The key to its evident early success (some walk-ins were turned away at 12:15 on a weekday lunch) is the reasonable pricing, which extends to a short but modestly marked-up wine list. The cooking was of a good standard in the dishes I tried, though you won't encounter any luxury ingredients here. I was impressed with a carefully made shallot tatin (pictured) for example. 10 Greek Street offers a refreshing change from the rapacious pricing of some recent London restaurant openings.

Rasa Maricham is a Keralan restaurant bizarrely situated in a Holiday Inn at Kings Cross. I haven't studied the subject in depth, but this may be the best food available at a Holiday Inn anywhere in the world. Rasa Maricham is part of a mini-chain that started in Stoke Newington, with a branch in W1 and, until recently, Charlotte Street. The cooking of the Keralan dishes is skilful, as shown here with an excellent Mysore bonda, q good kingfish curry and enjoyable paratha. It is a pity that the location will put off a lot of diners, as you are firmly in anonymous hotel dining room territory, but the cooking deserved a wider audience.

The Bombay Brasserie is back on my list of regular haunts after its refurbishment and associated upgrade to the cooking. This time I tried the Sunday lunch buffet, which featured some excellent snacks such as a potato chat and assorted puri dishes. The main dishes can suffer somewhat from the buffet format e.g. chicken tikka was tender but lukewarm, but the dishes delivered to the table hot were excellent, such as a side dish of aloo gobi; breads are also top class here, and cooked to order. I prefer the food here in the evening, but the buffet is fun. If you haven't been to the Bombay Brasserie since its refurbishment then you should give it a try.