From Park Lane to Trafalgar Square
Saturday, January 11th , 2020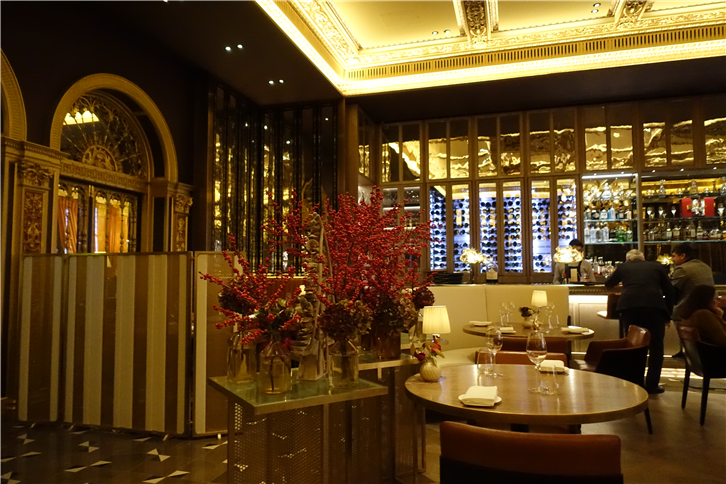 The Grill at The Dorchester (pictured) has been running since 1931, and has seen a number of talented chefs over the years. The latest is the youthful Tom Booton, and the room has been completely redecorated for the relaunch. The menu is still fairly classical but there are some different takes on dishes e.g. a deconstructed lobster thermidor. There is some ability in the kitchen, as shown by a superb sweetbread dish, but there were also some dishes that need a rethink, such as a pretty grim doughnut dessert. Overall though, the hits outweighed the misses, and as the kitchen settles down this will be a place to watch.
Bancone is one of a recent wave of pasta restaurants to hit the capital. This is quite a smart business move, as pasta is cheap to make and you don't require any pesky expensive ingredients to go with it: some pork for a ragu perhaps rather than costly langoustines or turbot. The place was heaving on a Tuesday night in January, but although it was harmless enough I found it hard to get very excited about. There was a theme of under-seasoning, although the veal ragu with winter truffles that I tried was pleasant enough. Ironically the best dish of the night was a dessert. I will stick to l'Amorosa if I want some pasta, though Bancone was better than the puzzlingly popular Padella on the one occasion that I tried it.
I also revisted The Harwood Arms, the only Michelin starred pub in London. This has seen a number of talented chefs running its kitchen, the latest being Sally Abe. I enjoyed the signature venison Scotch egg, and there was also some very good cured salmon on blinis and lovely fallow deer for my main course. Desserts were strong too, both a rhubarb trifle and a pear tarte tatin. This is a classy restaurant doing hearty food that is full of flavour.