Revisiting the Lovely Dysart
Saturday, November 24th , 2018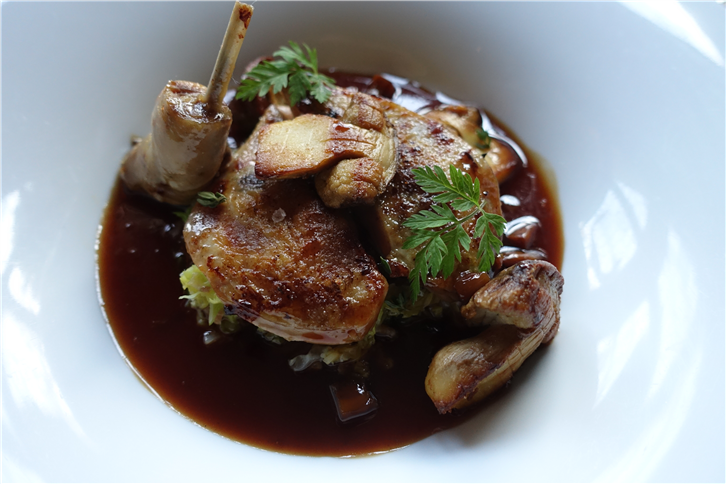 Rigo in Parson's Green (or Fulham if you are an estate agent) has a former head chef of a two star Michelin restaurant in Italy. This is an unlikely spot to find ambitious modern Italian food, but nonetheless here it is. Although the meal had some inconsistency there were some really classy dishes, and it was clear that the kitchen is using high-end ingredients. A risotto of black garlic, for example, used seven year aged Acquarello rice, an expensive product. The wine list could do with some reconsidering as it has some very steep mark-ups, but there is definitely some interesting food here.
Dysart near Richmond is an old pub that converted to a restaurant a few years ago. It has the 2010 Roux Scholar as its head chef, so not surprisingly the food is excellent. A signature dish of charred mackerel with ginger and champagne sauce was as lovely as ever, and a star dish at this visit was oxtail risotto made with Acquarello rice. A partridge dish (pictured) was also very enjoyable. This was a llovely meal, and it baffles me that Michelin perpetually ignore this restaurant when they regularly dish out stars to far less capable places. As a bonus the wine list is very fairly priced, and The Dysart has a charming, relaxed atmosphere.
Le Gavroche under Albert Roux was the first UK restaurant to gain three Michelin stars, so really put the UK on the fine dining map. These days under Albert's son Michel Jnr, Le Gavroche has two stars and is now in a Mayfair basement after moving from its original location in Sloane Street. It is known for its classic French cooking, and that seems to be the way to get the best out of it. Souffle suissesse was lovely, as was artichoke "Lucullus", with passion fruit soufflé for dessert. These dishes were terrific, but once you stray from the path of the classic dishes here things become less of a sure thing. The nibbles have for some time been very lacklustre, and more modern dishes seem rather ordinary. This makes it hard to score, as if you carefully ordered then you could have a strong two star meal, but if you went astray your meal would be barely one star. At these prices that is troubling.
The Michelin 2019 guide to Spain and Portugal came out. A promotion for Dani Garcia in Marbella to three stars. Demotions from two stars to one for Club Allard and Dos Celios, but promotions to two stars to Coina Hemanos Torres, Molino de Urbaniz and Ricard Camarena. Spain now has 11 three star restaurants, 25 two stars and 170 one stars, 22 of them new. Portugal has 6 two stars with teh promotion of Alma, and 20 one stars, three of them new.
The Michelin 2019 guide to Belgium and Luxembourg came out. Hertog Jan has closed, and there were promotions to two stars for Le Paix and La Table de Maxine in Belgium, and also for Ma Longue Sourit in Luxembourg. This guide now lists one three star, in Belgium, 24 two stars in Belgium and 104 one stars. In Luxembourg there are now 2 two stars and 8 one stars.