From Dim Sum to the Ritz
Saturday, February 06th , 2016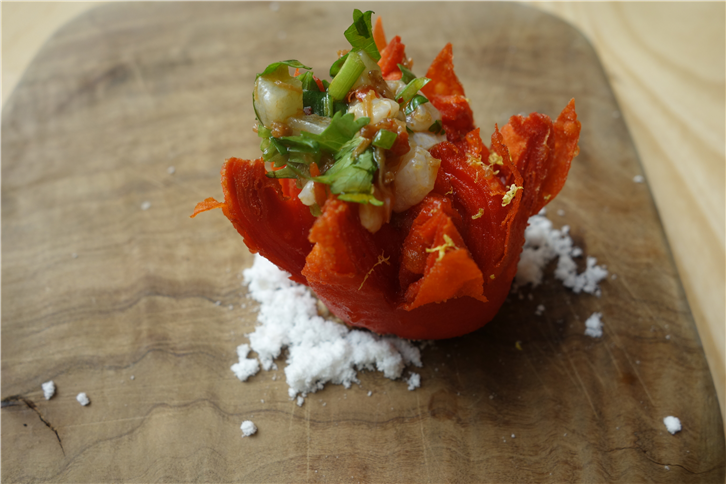 A. Wong is a particularly interesting restaurant. Chinese food is steeped in tradition, and it is a cuisine that rarely shows much sign of innovating, certainly not in the UK. Andrew Wong, who briefly studied chemistry at Oxford, is unusual in that he has been taking traditional Chinese recipes and dishes and giving them a modern touch. It is a particularly good restaurant to try dim sum, since you can order individual pieces rather than by the portion, meaning that a single diner can still try eight or nine different dishes. Shanghai dumpling with a liquid soup centre, and prawns with freshly grated wasabi root were particularly impressive at my latest meal here, but the standard is very high throughout.
Haandi is an Indian restaurant in Knightsbridge with a media profile so low as to be subliminal, yet its kitchen produces some of the most enjoyable Asian food in the capital. It is particularly good at vegetarian dishes, with an exceptionally good take on aloo gobi, as well as serving very capable variants on classic dishes: its murgh burra tikka is a chicken tikka with a spicier marinade than usual, which works very well. Even the humble popadom is particularly good here, unusually light and crisp. This is not a restaurant that is going to win any awards for décor, and the service is merely functional, but the food is excellent and the prices low, especially for the area.
The Ritz has become a regular haunt of mine over the last few years. The large kitchen team under John Williams MBE serves classical dishes with aplomb. It is rare in London in offering some tableside theatre, as at this meal with a whole mallard carved at the table, with a rich sauce from the duck innards flambéed before serving. This meal featured a very pretty crab and caviar dish, superb langoustines (which were alive in the kitchen, a rarity in London) and a terrific Coronation chicken tuile nibble. The pastry section here is particularly talented and produce a rage of elaborate and attractive desserts. It is absurd that it has no Michelin star, especially when you consider some of the other places in London that get this accolade.
The France Michelin guide came out. The big news was the elevation of Le Cinq under Christian Le Squer to three stars, well deserved based on my meal there. Alain Ducasse also regained three stars for Plaza Athenee, which had been demoted to two following a troubled reopening there. Meurice lost its third star, presumably following the recent announcment that chef Christophe Saintagne was leaving to open his own restaurant. More surprising was the demotion of Relais Bernard Loiseau, though my last meal there felt like a good two star meal rather than a three star.
There were ten new two star places and 42 new one stars. The new two stars are: La Grande Maison Joel Robuchon (Bordeaux), JYS (Colmar), 1920 (Megeve), Paloma (Mougins), Sylvestre (Paris), Gabriel (Paris), Grand Restaurant de Jean-Francoise Piege (Paris), Stories (Paris) and Villa Rene Lalique (Wingen-sur-moder). There were six demotions from two star level to one (including Gordon Ramsay's Trainon and Atelier Robuchon Etoile in Paris) and a pair of two star closures. France now has 26 three star restaurants, 82 two stars and 492 one stars. The only remaining 2016 guides to be published are those to Brazil, Scandinavia and the Main Cities of Europe, which covers eastern Europe. With these still left to appear, there are currently 112 three star restaurants in the world. Of these, I have yet to review Kohaku in Tokyo and Cheval Blanc in Basel (and Kevin Fehling's new restaurant in Hamburg, which moved from Lubeck).
I was very sad to hear about the death of Benoit Violier, head chef of Hotel de Ville in Crissier, who committed suicide on 31st January at the age of 44. I only met him briefly twice, but he was at the very top of his profession. The chef interview that he did for me is here. As well as earning three Michelin stars his restaurant was recently ranked the very best in the world by La Liste, a "meta" list of lists that factors in rankings by Michelin, San Pellegrino and local restaurant guides. His death is a tragedy for the industry and in particular for Brigitte, his wife, who also works in the restaurant, and his young son.