A week of fine food in Goa
Saturday, February 03rd , 2007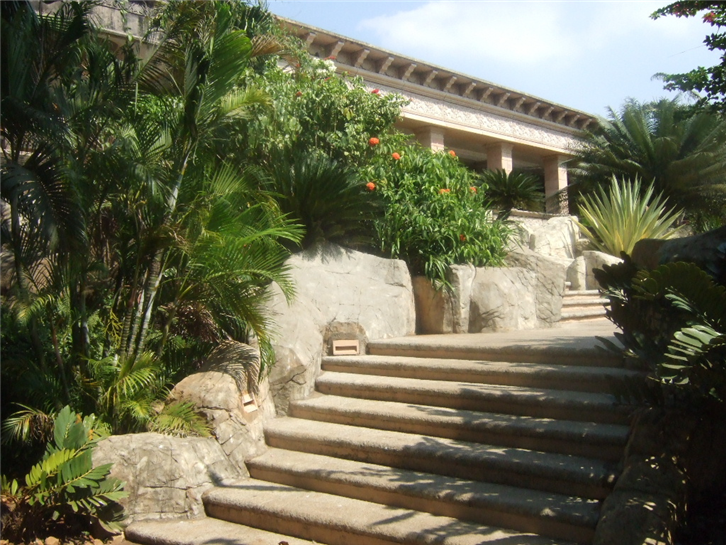 This was my sixth visit to the Leela Palace hotel in Goa (pictured). Apart from the beautiful beach and great service, a big attraction for me is the Jamavar restaurant, which serves the best Indian food I have eaten. The restaurant has a section open to view so that you can see the chefs preparing the tandoori food and the breads e.g. twirling romali roti in the air before bringing it down on a very hot hemispherical steel plate, the folding it over and over every few seconds.

The tandoori cooking is remarkable here. Lobster tikka is prepared fresh, the meat removed from the shell and briefly marinaded, then cooked in the tandoor. I have to think back to a meal at 3 star Michel Guerard to recall lobster that was comparably tender. Similarly fish tikka is dazzlingly fresh fish, marinaded and plunged on a skewer into the charcoal-burning tandoor until perfectly tender. The hint of charcoal gives an extra taste dimension to melt-in-the-mouth malai chiken tikka, for example. Breads are also superb, with all your favourites (naan, paratha, chapati, roti) but also rarer examples like bhatura, missi roiti (made with a mix of gram flour and refined flour to give a yellowish hue and unusual taste), romali roti and phulka (a variant on a chapati).

The Jamavar does less well in terms of traditional north Indian curries (these are fine, just not outstandng) but does very well with rice and vegetables e.g. fine bhindi and superb prawn biriani. The other thing that is a pleasure is the bill: we ate very well, and with drinks the bill per person was usually around £15 a head, maybe £20 if you had lobster. It would be a struggle to eat for this in a basic high street place in London.

Back to the UK now. I think something without spices is in order!