Sonnys in Barnes gets a new chef
Saturday, November 04th , 2006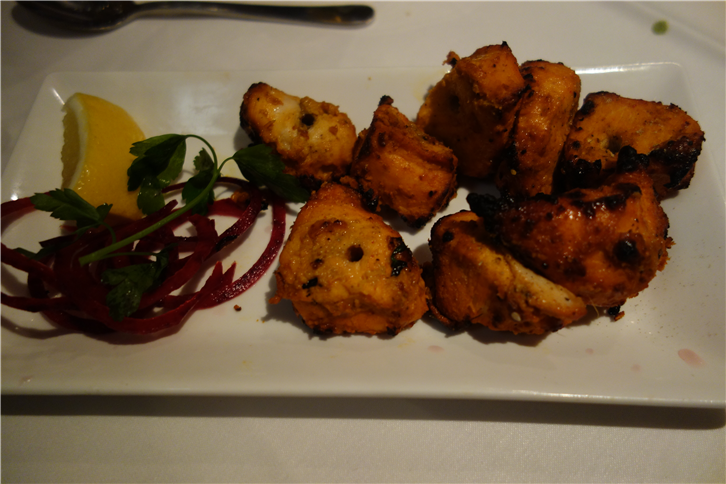 There is a new chef at Sonny's, the long established Barnes restaurant. For a while they managed to keep the ex head chef at Tante Claire who worked under Pierre Koffmann, but once she left things declined and I stopped going regularly. Now Ed Wilson, who has worked at the Wolseley and Galvins, is at the stoves and better food has returned based on my visit. Sonny's strives for a simple feel, so there are no fripperies like amuse guele or petit fours. Tonight I started with saffron risotto with ricotta and gremolata (a mix of capers, olives, lemon zest and parsley). The rice had soft texture and had absorbed the stock, which in itself was rather bland but was saved by the strong flavours of the saffron and the gremolata (15/20). Salad of endive, Roquefort and walnut was an interesting blend of components though the leaves needed a dressing (14/20). Pork belly was served as two slabs, nicely crispy on top, served with a cassoulet of Tarbais beans but the stock strangely lacked any real depth of flavour (15/20). Better was poached halibut, nicely cooked with a creamy celeriac puree, trompette mushrooms and a red wine sauce thickened with butter (16/20). A side order of chips was extremely good, thin, crisp and pretty much exactly what you would hope for from a bowl of chips, which is something that rarely happens.

Chocolate marquise was simple but had honest chocolate taste, served with a passion fruit sorbet that I requested instead of the crème fraiche sorbet advertised (15/20). Pain perdu ("forgotten bread" but essentially French toast) had good texture, served with a well made vanilla ice cream with a rich dark chocolate sauce (14/20). Overall a return to form for Sonnys. The waitress we had was fairly grumpy, but dishes were served correctly and at quite a pace, though there was no table turning. The wine list is on two pages and does better on reds than whites, with Bonny Doon Big House red and Guigal Cotes du Rhone as pleasing mid-range choices. I will start frequenting the place again.
Other than that it was a fairly quiet restaurant week as I was cooking quite a bit, but we did have another excellent meal at Haandi, which as regular readers know is about my favourite north Indian restaurant in London. Onion bhaji here is given an interesting twist by the use of bhindi (okra) as well as onion, and this combination worked well together. Vegetable dishes are always very fine here, aloo gobi retaining the texture of the potatoes and cauliflowers as well as tasting of the spice blend used, while chickpeas are very tender in the channa. Malai chiken tikka is a variant on the usual murgh burra tikka (pictured), with a marinade which uses cheese and results in a very tender chicken. Word is spreading about Haandi, as even with their new extra dining room they were packed even on a Sunday night.
I will own up to a quick meal this week at a Gourmet Burger Kitchen, which I actually think is pretty good for a chain. The burgers are of reasonable quality, cooked consistently, and the chips are not bad (though they should try Sonny's to see how chips should be made). Well, you can't eat in Michelin starred places all the time.